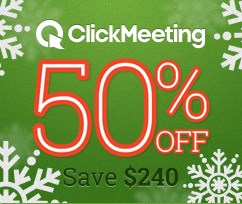 Wilmington, DE (PRWEB) December 05, 2013
ClickMeeting, the leading videoconferencing SaaS provider, today kicked off the Christmas holiday season with the best prices of the year on their most-popular webinar package. Pricing works out to just $20 per month when paid in advance on an annual plan.
"At this time of year, businesses are not only celebrating the season, they're also planning for the upcoming year," said ClickMeeting Founder and CEO Simon Grabowski. "This package deal lets them test and refine their webinar program for an entire year."
About the Christmas Special Promo
The promotional package is for the popular CW50 annual plan, which lets the user conduct unlimited webinars with up to 50 participants. To qualify for the reduced rates, the customer pays in advance for one year of service. The account can be renewed each year at the same promotional price — for life. Check our promotional website for more details.
The CW50 service plan includes the complete set of ClickMeeting features, including free download and installation of the new ClickMeeting mobile apps for iPhone and Android.
About ClickMeeting Videoconferencing
True to its mission, ClickMeeting makes it easy for non-technical people to produce highly sophisticated webinars using a point-and-click user interface — at a price small businesses and professional firms can afford.
The platform includes live audio- video streaming with up to 4 presenters, plus a pass-the-camera feature that enables the webinar organizer to share presentation duties with others in the audience. Innovative technology delivers the service to each participant from the nearest Cloud server, eliminating the distracting video jerkiness of some webinar platforms. And the ClearSound engine delivers amazingly pure audio, with most background noise eliminated.
Built-in presentation tools enable the organizer to pre-load and deliver slide shows, documents, spreadsheets, PDFs, image files and YouTube videos. A handy digital whiteboard opens up unprecedented opportunities for note-taking, talking points, and diagramming. Or for custom software such as product demos and graphic design programs, the presenter can share the desktop with participants, with lightning-fast update speed thanks to Cloud technology.
ClickMeeting is built for today's online environment, with logins using Facebook or Twitter credentials, moderated chat translated into 52 languages, a social media app that enables online meetings inside Facebook, and preformatted social sharing buttons. And for on-the-spot feedback, presenters can set up online surveys, polls, and scored tests then tabulate results and share them during the meeting.
The platform includes a one-click recording feature with hosted playback and downloadable recording, rebranding feature for customizing the meeting room, and statistics for evaluating overall webinar performance and individual participation.
"Best of all, these features can be accessed on our new mobile apps for iPhone and Android," said Simon Grabowski. "Participants and presenters need not worry about being tied to their desktop computer, they can log in from anywhere."
Follow link to company website for: ClickMeeting 30-Day Free Trial, No Credit Card Required.
About the Company
In 2013 ClickMeeting was honored by the International Business Awards (IBA). A 200-member panel of experts awarded the company highest honors for software development in the highly competitive category "Best New Software Version" at the 10th annual IBA awards banquet in Barcelona, Spain.
ClickMeeting was developed by parent company Implix, a leading provider of practical, cost-effective software solutions for small business. With more than 500,000 users, ClickMeeting uses Cloud technology to facilitate face-to-face online collaboration with participants worldwide. For more information, please visit http://www.clickmeeting.com/.