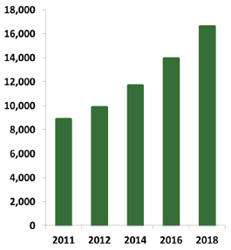 The Saudis are the highest per capita HLS & Public Safety spenders in the world
Washington D.C. (PRWEB) December 05, 2013
According to the new Saudi Arabia HLS and Public Safety Market – 2014-2018 market research report, the turmoil in the Arab world and the Iranian driven Sunni-Shi'ah divide in the Muslim world are forcing the Saudi Arabian ruling family into critical decision junctures. The Saudis hiked their 2011 Homeland Security & Public Safety procurement budget by 46% and never looked back since. During 2014-2018, Saudi Arabia plans to procure as much as $70B of Homeland Security (HLS) & Public Safety related products and services making them the highest per capita HLS & Public Safety spenders in the world.
The Saudi Homeland Security & Public Safety market is a unique case, since the global financial crisis does not impact the economy of Saudi Arabia. The regime has at its disposal nearly $500B of petrodollars and will spend "whatever it takes" to secure the country's stability and defeat any internal or external regime threats. The growing need coupled with nearly unlimited resources creates a highly profitable business environment for state-of-the-art technology and service providers.
HSRC's new Saudi Arabia Homeland Security & Public Safety Market – 2014-2018 report presents in 230 pages and 114 tables and figures: market opportunities and entry strategies, analyses, market data starting from 2011, and forecasts up to 2018 of the Saudi Homeland Security & Public Safety markets, as well as profit from in-depth market information, analysis and market forecast of 10 vertical and 8 technology submarkets:
Vertical Submarkets include:
Aviation Security
Border Security
CBRN Security & Hazmat Safety
Counter Terror & Crime Intelligence
Critical Infrastructure Security (e.g. Saudi oil industry security)
Law Enforcement, Police Modernization & 1st Responders
Maritime Security
Private Sector Security
Safe Cities
Diplomatic (Facilities & Personal) Security
Technology Submarkets include:
Biometric Identification
C-3I Systems
CCTV Surveillance Devices and Systems
Communication Equipment & Systems
Cybersecurity Systems
Non-Lethal Weapons
Perimeter Security & Intrusion Detection Systems
Riot Control Equipment
The report projects sub-markets from several perspectives, including:
Business opportunities and challenges
SWOT analysis
Market analysis (e.g., market dynamics, market drivers and inhibitors, competitive analysis)
Companies operating in the market: BAE Systems plc, The Boeing Company, Raytheon Company, EADS N.V, Finmeccanica S.p.A., Thales Group, Lockheed Martin, Northrop Grumman Corporation, L-3 Communications Holdings, Inc, Science Applications International Corporation (SAIC), General Dynamics Corporation
Explore more reports by Homeland Security Research Corp: http://www.hsrc.biz.
About Homeland Security Research Corp (HSRC)
HSRC is a Washington, D.C. based international market research and strategic consulting firm serving the Homeland Security and Public Safety communities. HSRC provides premium market, present & emerging technologies and industry expertise, enabling our global clients to gain critical insight into the business opportunities that exist within the Homeland Security & Public Safety markets. Government clients include the U.S Congress, DHS, U.S Army, U.S Navy, NATO, U.K, Japan, Korea, Taiwan, Israel, Canada, Germany, Australia, Sweden, Finland, and Singapore; DOD, DOT, GAO, and the EU are among others. HSRC serves over 650 private sector clients, including all major defense and security contractors and many Fortune 500 companies. 70% of our reports are acquired by repeat customers.