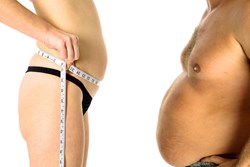 ...People need to be aware that any changes in weight can change a relationship for better or worse.
London (PRWEB UK) 13 December 2013
A new study published in the journal Health Communication researched the often overlooked issues of behaviour and communication between two partners. Couples in a happy relationship were the most likely to put on the pounds, but if sudden lifestyle changes were adopted by one of the partners, the resulting weight loss impacted the relationship in many ways. (1)
A relationship that is beneficial to both partners, causing feelings of happiness, had the highest influence in weight gain, above having a baby or quitting smoking. Obese couples, when one partner chooses to follow a lifestyle change, experienced instances of sabotage to the new diet and a drop in libido. This is due to the one partner becoming aware of healthy alternatives and then coaxing the other partner to join in these changes. If these suggestions are accepted, the shift to a healthier lifestyle brought the couples closer, but if one partner was not amendable to change the relationship became fractured.
Researchers from North Carolina State University teamed up with the University of Texas at Austin to investigate behaviours and communication among 21 couples, where one person in the couple had recently lost 30 pounds or more. Online questionnaires were made to record the impact of weight changes, with the researchers finding both positive and negative repercussions on each relationship.
Two reoccurring effects for any weight change came in the departments of communication between partners and changes in the level of intimacy. While most couples who followed similar patterns of gaining or losing weight found themselves becoming closer, the participants with a widening weight gap reported feelings of insecurity. This affected the level of intimacy and often led to a build-up of resentment and dissatisfaction which in turn caused a breakdown in communication between the two. (2)
The theory is that the mental and emotional level of a relationship can cause one or both partners to stop caring for their looks, due to feeling secure, and cause initial weight gain, especially for the women. In reverse, if one partner decided to change the equation and lose weight along with their partner, this shared goal helped bond the couple closer together, and both partners remained satisfied with the changes.
It was only when individual choices were made and implemented, without understanding between the partners, that mixed results showed. Superintendent Pharmacist at Chemist Direct, Omar El-Gohary sees truth in this theory, stating:
'People's eating habits can be influenced by emotions and as a result different life stages can impact a person's weight. It's easy to become relaxed, and comfortable in life, allowing you to let yourself go. If allowed to go unchecked you may reach a point where drastic change is needed, for the sake of your health.
People need to be aware that any changes in weight can change a relationship for better or worse. Good communication plays an important role in helping a partner understand and accept these changes, allowing the process of change to flow smoothly.'
References
1. http://www.tandfonline.com/doi/abs/10.1080/10410236.2012.736467?journalCode=hhth20&#.Up2czMQW2I_
2. http://www.nhs.uk/news/2013/11November/Pages/Weight-loss-could-affect-the-way-couples-interact.aspx