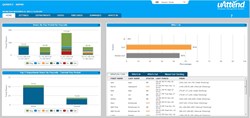 Explore the new features in the new version of cutting-edge and innovative uAttend HR management systems. It provides many new choices and reports.
(PRWEB UK) 4 December 2013
Recently, Access-to-Time Ltd helped launch a completely renovated help section on the uAttend website. Clients can access this help section with confidence knowing that they will be well attended to, and receive all the assistance they may require in a quick and competent manner. The release of Version 2 is no less exciting. With all of the forward-looking innovations, Access-to-Time Ltd still provides the lifetime warranty and the excellent customer support that has become their trademark in employee time tracking systems client services. You can even call and speak with a real live human!
While the uAttend offerings have been available for only three years, in this short time they have become well established and secured their position in the industry for the future based on their unparalleled time keeping solutions and attractive pricing. State of the art and highly user-friendly, the uAttend time and attendance software UK systems are particularly advantageous for medium and smaller-sized businesses, who need a wide array of choices while still cost efficient. Even large organisations, boasting several thousand workers, find extensive benefits to using uAttend's cloud technology.
Explore the cutting-edge look and feel of some of the new Version 2 features that will be included.
Existing clients of the uAttend Employee Management System find the ease of use and other benefits so marvelous that they are excited to learn how this system has been improved with many new features, helping employees and administrators alike to operate the uAttend system even more efficiently.
uAttend is offering limited opportunities to trial Version 2. Please contact us for YOUR opportunity to test this innovative time-keeping system.
The brand-new and advanced features incorporate the following:

Dashboard Homepage
Clocking Management Tab
Expanded Mobile Application
Enhanced Clocking Reports
Dashboard Features
Administrators are able to change the look and manage the functions of the administrator home page much more easily in Version 2. They may choose to turn on or turn off the "Dashboard," which displays a variety of tracking and efficiency reports.
The improved Dashboard functions offer four diverse sections, all of which can be shown or not by the administrator via the Settings tab. The new settings include:
Hours By Department – Clearly illustrating collective hours the employees worked by tracking period as well as by department.
Hours By Tracking Period- Clearly delineates collective hours worked by employees during the pay period, by pay code.
Who's Working and When – Gives managers and administrators the ability to view clocking in and out in seconds, in real time.
Upcoming Public Holidays and Events – Allows the entry of future Public Holidays and events into the system.
Managing clocking in and clocking out:
The improved clocking management tab consolidates all clocking in and clocking out functions on one easy-to-use viewing screen.
The Clocking Management viewing screen grants managers and administrators the ability to manage the following:
Timeclocks
Security Settings (P Addresses, Caller IDs, Geo-Locations)
Enhanced Clocking Report
Account Drop Down Menu
Easy Access to Archive Information
User Screen
Department Screen
Employee Clocking Screen
The improvements to this screen includes the capability to add employee-specific notes, for computers, tablets and the remote app as well.
The ability for workers to denote their departmental functions is still intrinsic to the screen and is key in job and departmental costing needs.
Newly updated employee screen shows online employee and supervisor confirmation of hours worked. This screen allows the employee to confirm the hours they have worked prior to payment of those hours, a real bonus for supervisors and administrators, who can then lock the data after the pay-hours have been processed.
Further Improvements Are On The Horizon:
Job Tracking & Time Off Requests using Cloud Technology.
New methods to facilitate requests for time off, expense reimbursement tracking and job tracking.
Access-to-Time, based in Somerset, UK, assists all types of businesses and organisations to equitably save time and increase profitability by more efficiently managing their employees' timekeeping functions using powerful Time and Attendance software UK. Access-to-Time is changing the way the world is using T&A management.
Access-to-Time offers and implements computerised T&A hardware and software systems in addition to offering skillful and professional advice as well as dependable continuing assistance to all types of businesses and organisations managing 5 to 5000 plus employees. Clients appreciate the seamless monitoring of hours worked, time off, time-savings and reduced payroll costs. Most experience a savings of at least 2% of all payroll costs once this state of the art T&A system has been enabled
For further information please contact:
Jacqui South way
Crackerjac PR
Tel: 01454 201869 / 07747 804703
Alastair Slade
uAttend/Access-to-Time
Tel: 01761 410015 / 07714 898902