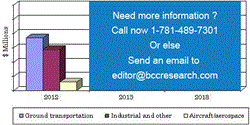 Wellesley, Mass (PRWEB) December 03, 2013
According to a new technical market research report, The Friction Products and Materials Market, from BCC Research (http://www.bccresearch.com), the global market for friction products was valued at nearly $14.4 billion in 2012 and is expected to reach $15.1 billion in 2013. BCC Research projects the market to grow to $20.2 billion by 2018, and register a five-year compound annual growth rate of 6% from 2013 to 2018.
Friction materials are used in the transportation industry to enhance the efficiency and performance of vehicles, as well as their appearance. Major application areas of friction products and materials are light trucks, aircrafts, railways, passenger cars, commercial vehicles in addition to other industrial applications. Friction products are also found in a number of industries ranging from household appliances to heavy construction equipment.
The overall market for friction products has largely recovered from the 2008-09 recession, although there continue to be pockets of depressed demand. During the next five years, the ground transportation segment will experience steady growth in the developed nations, while in emerging markets, light-vehicle applications in particular offer opportunities. The aerospace market is expected to grow relatively slowly, partly due to fiscal pressures on many countries' defense budgets, which translate into reduced expenditures on military aircraft. Other applications present a mixed picture. Increasing global income and the rise of middle classes in developing nations offer opportunities for friction materials in appliances. An eventual recovery of capital spending in combination with rapid industrialization will also provide business opportunities for friction materials in industrial machinery. Oil well, construction machinery, railway, and other industrial applications will offer more modest opportunities.
Representing a mature business, the global market for friction materials is served by a number of companies, most of which are specialized, competing at various levels. As the materials that have gone into friction products have changed, so have the companies that produce these materials. Conglomerates have swallowed up many of the smaller and medium-size firms. Consequently, new product development, marketing, and technical servicing are keys to success in this industry. Many suppliers compete in the same market segments, and corporate recognition (or reputation), gained through advertising and promotion has become an important factor.
This report is an updated edition of a study published by BCC Research in 2012. It covers two types of friction materials, including dry friction materials, such as non-asbestos organic (NAO), semi-metallic, low-metallic, and asbestos friction materials; and wet-friction materials such as paper products. It provides a detailed and comprehensive study of the global market for friction products and materials in light vehicles, medium- and heavy-duty trucks, aircraft, and other industrial applications, as well as potential business opportunities.
The analysis covers both original equipment markets and the aftermarket. In addition, it presents thorough coverage of the underlying economic issues driving the friction products and materials business, as well as assessments of new and potential pipeline products. Social, political, and regulatory issues are also covered, as are international markets.
This report is intended for marketing executives, business unit managers, and other decision-makers for friction products and materials companies. Technology suppliers, suppliers of plastic resins and other materials, and other companies involved in this sector will also benefit from this study.