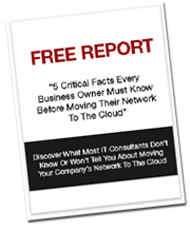 (Cloud Computing) one of the most important yet confusing technologies available
Southborough, MA (PRWEB) December 10, 2013
TOSS C3 has been delivering cloud solutions since 1999 and the decision to provide both a 29-page expert report on cloud computing and a cloud readiness assessment to North American based companies was a natural progression. Now in addition to delivering superior cloud solutions, TOSS C3 will be educating business executives and business owners about one of the most important yet confusing technologies available to them.
"TOSS C3's decision to write and distribute a cloud computing report was driven by the request of business leaders and customers. "They kept saying the cloud, what it is, and how it can be helpful was one of the most confusing topics they encountered," stated Greg Hanna, President and CEO with TOSS C3. "TOSS is excited to be a part of the educational process a business executive must undertake in evaluating the cloud and what it will mean to their business. Too often, execs get caught up in the technical bits and bytes and miss out on the actual business benefits of technology. TOSS wanted to cut through all of the confusion and present the benefits of cloud computing in a simple and quantifiable format. TOSS also felt it was important to clearly explain what the cloud is and why not all cloud solutions will deliver on their promises." TOSS C3 is the #1 fastest, most reliable, and secure way for businesses to eliminate 99% of their IT-related problems [downtime, system crashes, slowness, data loss] and other technical issues, while giving their employees access to their desktops, applications, email, and data from any device, anywhere, at any time. Click here to get your complimentary copy of the Invaluable Cloud Report.
"In December 2012, our law firm changed from in-house servers to TOSS' cloud based platform. We also upgraded our email and word processing software. Oh, and it all had to happen over the last few days of the year so we could be live January 1st," said Susan Sawyer, Executive Director at Tucker, Saltzman and Dyer. "The TOSS Cloud has saved us well over $67,000 in IT expenses and lost productivity so far and TOSS C3 clearly has the skill necessary for proper planning and implementation."
"All our Microsoft and Linux applications are offsite in the cloud, so we are able to access them from the office or from any remote location," said Chris Riley, President and CEO of Community Service Stations. "Going into the cloud with TOSS C3 was the best IT business decision I've made."
Business executives and owners interested in learning more about TOSS C3, downloading a copy of TOSS C3's Invaluable Cloud Report, and getting a Cloud Readiness Assessment, can visit http://IsTheCloudForUs.com. Businesses interested in speaking with TOSS C3 should contact Mike Ciulla at 1-888-884-TOSS or 1-508-820-2990 x990 for more information.