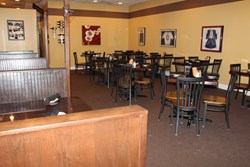 Cincinnati, OH (PRWEB) December 03, 2013
Leading restaurant furniture manufacturer and distributor Affordable Seating recently helped Newtown, Ohio's Laszlo's Iron Skillet to a triumphant grand opening of the opening of their second restaurant.
Located in the Ivy Hill Center in Newtown, OH, Laszlo's Iron Skillet recently opened their second restaurant. Previously named the Iron Skillet, the restaurant recently renamed the restaurant after their father, Laszlo Molnar so that they will not be mistaken for the other Iron Skillets or the truck stops. The restaurant is under the same ownership and they intend to offer the same great service and quality of food that they have been known for.
Laszlo's Iron Skillet was established in Mount Washington by Laszlo and Elizabeth Molnar in 1973. As the business grew, the Molnar family purchased the current building in Newtown. They have continued to serve the highest quality, authentic European and American cuisine. These recipes have been handed down through generations of the Molnar family, continuing a tradition of excellence. Some of their favorite dishes include Schnitzels, Goulash, Cabbage Rolls and Sauerbraten.
The owner Monica Lippmeier, contacted Affordable Seating to place an order for restaurant furniture. "We at Laszlo's Iron Skillet placed an order with Affordable Seating and with the help of the friendly representative we were able to get the furniture we needed for our location quickly and with the help of Maggie, were able to furnish our tight 600 sq. ft. area," remarked Monica. The restaurant draws high traffic, so tough durable seating was very important to him. He also wanted restaurant seating that looks good and is comfortable.
Monica decided to go with Affordable Seating's Elongated Vertical Back Metal Chair. There are also matching bar stools available. The Elongated Vertical Back Metal chairs have a classic, elegant look, are very comfortable and strong. The Elongated Vertical Back Metal Chairs sell for only $31.00 and the matching Bar Stools sell for only $49.99. She got the frame in the standard black finish with solid wood seats in a walnut finish. The frame is available in 4 other colors for and additional charge. A padded seat is also available. The padded seats come in vinyl or fabric wide a wide selection to choose from. Custom seats can also be made in any material and as custom finish can also be made for wood seats.
For more information visit http://www.affordableseating.net/ to browse its selection of restaurant chairs, bar stools, table tops, table bases, booths, patio furniture and sale items.
Laszlos Iron Skillet's new location is in the Ivy Hill Center at, 7397 Main Street. (Rt.32), in Newtown, OH. The can be contacted at: (513) 561-6776. You can also visit their website at: http://www.laszlosironskillet.com.