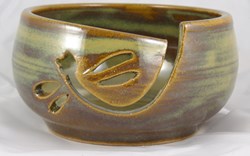 Shopping from the comfort of my home and sending wrapped gifts to my family and friends was easy using MadeInHaliburton.ca
Minden, Ontario (PRWEB) December 04, 2013
The Online Art Gallery, MadeInHaliburton.ca announces the release of its "Interest-based Holiday Gift Catalogue." Anyone who is suffering from "Holiday Gift Block" (similar to writer's block) will find this list of suggested gifts for people of different interests a welcome relief.
Examples of what the catalogue contains are:
For the Knitter:
The most popular item this season is a notched yarn bowl. What is a "notched yarn bowl"? Well, it is a bowl that keeps the knitter's wool in a clean and beautiful container while he or she is knitting. The wool will remain close at hand and be kept clean while the knitting project is under way. No more balls of wool escaping across the room and becoming entangled in chair legs. There is even a brand new yarn bowl with a lid to provide additional protection to the yarn in case of a spill from above.
Additional ideas for the knitter are wonderful knitting-themed mugs. Whether it is a mug with a cable stitch or the insignia of a knitting stitch (ie P2, K2, M1) it will be treasured by the knitter on any gift list. The mug is also big enough to hold enough caffeine to keep them awake as they work long hours into the night completing a gift on deadline.
For the Fashion Diva:
Select "Art for the Body" and see all the wonderful items available on MadeInHaliburton.ca for the woman who wants to look special this season or at any time of the year.
Merino wool scarves by Susan MacDonald are especially treasured because they insulate against the cold, in a way that synthetic wool cannot, and are not itchy like Canadian Wool.
Jewellery will brighten any woman's day. MadeInHaliburton.ca features a variety of artists and a variety of price ranges. One-of-a-kind silver jewellery that is hand-crafted, ceramic pendants, glass pendants, and quirky items made from found items in nature such as porcupine quills make up the online inventory.
These are just examples of what is found at the Online Art Gallery to please people of different interests on a holiday shopping list. There are also suggestions for the bird-lover, nature-lover, hostess, butter-lover, horse-lover, poetry-lover, music-lover, fashion diva, decorator, book worm, glass-lover, and chef. Why not check out the catalogue to learn about all the rest?