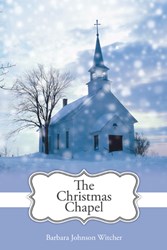 Take time to reflect and enjoy this holiday season.
Mission Viejo, CA (PRWEB) December 04, 2013
The holidays are not only an occasion to give to others, but also to give time to yourself.
Barbara Johnson Witcher's new book, "The Christmas Chapel," tells the compelling and inspirational story of people facing their individual problems of heartbreak, bitterness, indifference or vengefulness while taking shelter in a small church from a blizzard. This process takes the characters on an introspective journey that – for almost all of them – leads to healing and peace in time for Christmas.
Witcher, now retired from her career in business, is extremely active in her church through creating and leading Bible studies, as well as teaching various religious topics to women.
"I was inspired to write this book when I was thinking about the power of introspection and God's message," said Witcher. "There is no heavenly foreign language. We are able to communicate with God in our own individual way, and it's important to take the time to listen and address the difficulties in our lives."
"The Christmas Chapel" providers readers with both an inspirational story, as well as an opportunity to take time to reflect and enjoy this holiday season.
For more information, please visit bookstore.westbowpress.com.
The Christmas Chapel
By: Barbara Johnson Witcher
Hardcover: $30.95
Paperback: $13.95
ISBN: 9781490806006
Available at bookstore.westbowpress.com, amazon.com and barnesandnoble.com.
About the author
Barbara Johnson Witcher, retired from business and broadcasting, now uses her time and skills as an inspirational speaker and leader in her church, the Capistrano Community Church. As part of her career, she has authored business books and hosted her own radio interview shows.
Witcher currently lives in Mission Viejo, California.
# # #