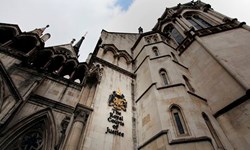 The sentence paid lip service to the definitive guideline which exist to ensure uniformity and consistency of approach for all who come before the Courts to be punished for these sort of offences'
London, United Kingdom (PRWEB UK) 3 December 2013
Regina V Mashain Pitchei [2013] EWCA Crim 2108
Court of Appeal Criminal Division 1 November 2013
Duncan Lewis Crime Solicitors made a successful appeal against sentence in the case of Mashain Pitchei in a history defining moment as one of the first cases to be televised from inside the Court of Appeal. Mashain Pitchei was originally made the subject of a nine year extended sentence (made up of four years imprisonment and five years extended monitoring on licence) following his guilty plea to sexual assault after pretending to be a taxi driver and molesting a heavily inebriated young woman who mistakenly got into his car.*
This sentence was handed down at the St Albans Crown Court in April 2013 by His Honour Judge John Plumstead. The Judge considered that the appropriate sentence after trial would have been 6 years, but gave the Appellant full credit of a one-third reduction for his guilty plea. The appropriate sentence therefore became one of 4 years, which would allow the 'dangerousness provisions' of the Criminal Justice Act 2003 to apply.*
The Judge was satisfied that that there was a significant risk to members of the public, particularly lone females, of serious harm occasioned by the commission of further specified offences. Pitchei therefore satisfied the criteria of 'dangerousness' under the Criminal Justice Act 2003 and the Judge did not hesitate in passing an extended sentence of imprisonment.*
The grounds of appeal that were lodged on behalf of the appellant were that the custodial part of the sentence was manifestly excessive (i.e. 4 years), having regard to the Sentencing Guidelines Council Definitive Guidelines for the offence and secondly, that the Judge was wrong to make a finding that the Appellant was dangerous, due to the fact that this was the Appellant's first such offence and that the Judge had not invited any representations from his lawyer before making such a finding, and that the pre-sentence report did not support such a finding.*
Sunjay Versani of Duncan Lewis acted as Mr. Pitchei's Solicitor Advocate throughout the course of proceedings. Mr. Versani submitted on behalf of his client that whilst the offence was no doubt very serious, it could have been committed in a myriad of more serious ways and that the final sentence handed down failed to recognise that.*
He went on to say that the sentencing Judge erred in coming to the view that this offence was planned and predatory and that the offence was in fact committed opportunistically and was borne out of an unusual set of facts which the Appellant could not have foreseen so as to plan. He suggested the Appellant's motivations that night were at best were financial (in terms of operating as an unlicensed mini cab driver) or at worst they were speculative.*
He further argued that the use of force was minimal; there were no overt threats or ultimatums; that in the course of the time in which the Complainant was in the Appellant's car there had been no attempt to undress her or degrade her in any way; and that the CCTV footage suggests that at the time when he appeared to be touching her, she appeared to be touching him.*
The Appeals judges found that "a sentence of six years after trial was too long and contrary to the guidelines for this offence, even taking into account the aggravating features identified by the judge".*
The Appellate Court considered the appropriate sentence after a trial would have been four years, "which after giving full credit for the guilty plea should be reduced to 32 months imprisonment".*
Mr. Versani has said that 'The sentence imposed by the learned Judge at St. Albans Crown Court in April was clearly wide of the mark. The sentence paid lip service to the definitive guideline which exist to ensure uniformity and consistency of approach for all who come before the Courts to be punished for these sort of offences'.
Sunjay Versani is a High Court Advocate, operating within Duncan Lewis' Crime Department. He was supported throughout the case by Tina Mistry a Duty Solicitor also based in the Crime Department.
Duncan Lewis was recently recognised by the Legal 500 UK Directory as an 'excellent' UK leading law firm and highly recommends a number of its lawyers across the company's Immigration, Public Law, Family, Child Care & Housing Legal Departments.
*Regina V Mashain Pitchei [2013] EWCA Crim 2108 Court of Appeal Criminal Division 1 November 2013
About Duncan Lewis
Duncan Lewis, established in 1998, is the largest civil legal aid practice in the UK and one of the country's fastest growing firms of solicitors, serving both corporate entities and private individuals from offices across London and
throughout the UK. A recommended leading law firm by Law Society Lexcel, Legal 500; Duncan Lewis employs over 500 members of staff and was the first law firm to achieve the Investors in People Gold Quality Standard Mark in 2009. Representing over 25,000 clients per year, the company has an excellent reputation in the Administrative Court, High Court and Court of Appeal in the Immigration, Public law and Family/Child Care jurisdictions.
Established areas of law are: business immigration, child care, civil liberties, clinical negligence, community care, crime and fraud, dispute resolution, debt and insolvency, employment, family and divorce, housing, asylum and immigration, litigation, mental health, personal injury, prison law, professional negligence, public law and administrative law, regulatory matters and welfare benefits.