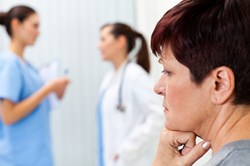 This is a terrible incident that could have been so easily avoided
(PRWEB UK) 4 December 2013
Personal Injury firm Mercury Legal has called for more action to be taken over "never events" in hospitals after surgeons inserted a chest drain into the wrong part of a patient's body at a hospital in Nottingham. (i)
Documents from Nottingham University Hospitals NHS Trust gave details of the incident, which happened when surgeons inserted the drain into the patient's left-hand side when it should have been inserted into the right. The incident was picked up within 24 hours of the surgery but a decision was made to leave the drain in place as it was fulfilling its purpose. Trust documents stated that "low harm" had been caused by the error, but it has not been confirmed at which hospital the incident took place. (i)
The Trust has launched an investigation into the case, with results expected in January. It said it has put a number of actions in place to ensure the incident does not happen again. (i)
"Never events" are a type of hospital negligence which refers to incidents that are so serious they shouldn't happen in the first place. These types of incidents are largely preventable and the Government classes them as very serious indeed.
Chris Woods, Head of Clinical Negligence at Mercury Legal, said: "This is a terrible incident that could have been so easily avoided.
"Never events are preventable incidents and the Trust must adopt strict measures to ensure this type of event does not happen again.
"Fortunately, as stated above Trust documents confirm there was minimal harm to the patient but regrettably this will not always be the case."
Mercury Legal has helped hundreds of victims of hospital negligence and their families at what can be an extremely difficult and emotionally upsetting time. The Personal Injury firm leave no stone unturned in pursuing a claim against a negligent doctor or medical professional and look at all aspects of the treatment and care received to make a claim for compensation.
ENDS
Sources
(i) Nottingham hospital surgeon's mistake over chest drain sparks NHS probe, 2nd December 2013 http://www.nottinghampost.com/Surgeon-s-mistake-chest-drain-sparks-NHS-probe/story-20248209-detail/story.html
About Mercury Legal:
Mercury Legal are specialists in clinical negligence claims and have a highly-experienced team of solicitors who have supported hundreds of victims of hospital negligence, recovering thousands of pounds in compensation for victims and their families.
About Chris Woods:
Chris Woods is a Partner at Mercury Legal and specialises in Medical and Clinical Negligence claims. As well as being the Head of Clinical Negligence at Mercury Legal, Chris has also featured in the Daily Mail Online, The Mirror and The Post for recent issues and concerns around sunbed regulation.