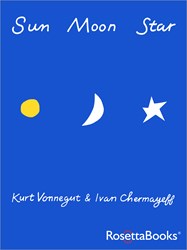 'We are delighted to add this special piece to the list of Vonnegut works we have made available in digital form at RosettaBooks.' - Arthur Klebanoff, CEO of RosettaBooks
New York, NY (PRWEB) December 03, 2013
RosettaBooks, the leading independent eBook publisher, is pleased to release Sun Moon Star, an extraordinary children's story by legendary author Kurt Vonnegut. In a departure from his well-known satirical and dramatic style, Vonnegut delves into the commonplace nativity story, but through an unexpected perspective.
"We are delighted to add this special piece to the list of Vonnegut works we have made available in digital form at RosettaBooks," said Arthur Klebanoff, CEO of RosettaBooks.
How did the world appear to the infant eyes of the newborn Jesus? This is the question Vonnegut sets out to answer in his unconventional story. Sun Moon Star is told through baby Jesus' eyes, offering a vision of wonder and reverence that both children and adults can appreciate.
Sweet, imaginative prose is complemented by simple, beautiful illustrations. The innocent perspective will inspire curiosity and awe in readers. A compelling and inventive take on the Christmas story, families will want to include this children's book as one of their new traditions.
Vonnegut's ability to craft language with razor-sharp humor and poignant reflection secured his place next to Mark Twain in the American literary canon. His bestselling novel Slaughterhouse-Five was inspired by his experience as a German prisoner of war during World War II.
A prolific writer, Vonnegut published novels, short stories, essays, plays, articles, speeches, and correspondence, some of which only became available posthumously.
Sun Moon Star is available exclusively on Kindle for $5.99.
About RosettaBooks: RosettaBooks is the leading independent digital publisher. Its prominent author collections include 52 works of Winston Churchill, 35 titles by renowned science fiction author Arthur C. Clarke, 20 works by Kurt Vonnegut, 12 titles from international bestselling business author Stephen R. Covey and 18 works by Robert Graves, celebrated 20th century English poet, critic, and author of I, Claudius and Claudius, the God. RosettaBooks also publishes eBook lines in collaboration with AARP, Harvard Health Publications and Mayo Clinic. Publisher of ten Kindle Singles, including Ray Bradbury's The Playground, RosettaBooks has launched nine of them to bestseller status. RosettaBooks is an Inc. 500 company, on the exclusive list of the fastest growing private companies in the United States. For more information, please visit RosettaBooks.com and follow the e-publisher on Facebook.