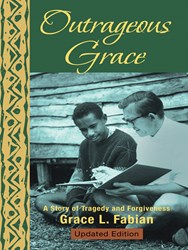 There are no loopholes in scripture that excuse us from forgiving.
Douglassville, PA (PRWEB) December 04, 2013
As a Bible translator in Papua New Guinea, Grace Fabian suffered a terrible loss when her husband died suddenly and tragically. Her incredible true story, "Outrageous Grace," is one of daunting challenges, agonizing losses and thrilling rewards -- all orchestrated by God.
"Outrageous Grace" follows Fabian and her husband as missionaries on the island nation of Papua New Guinea. Fabian and her husband moved to Papua New Guinea in 1969 to translate the New Testament to the language of the Nabak people. After spending 24 years developing a dictionary of the Nabak language in order to translate the New Testament, the Fabians were close to completing the project.
Astonishingly, her husband was translating 1 Corinthians 13, the chapter of unconditional love from the New Testament when he was murdered. Fabian and her children wrestled with forgiving the murderer, a Nabak friend. "Outrageous Grace" chronicles the aftermath as Fabian put a pause to her work in order to navigate the foreign country's judicial system.
Ultimately, Fabian's family offered a simple gift to the murderer, in turn her family learned to forgive. Their forgiveness prompted a change within the community. Her forgiveness taught the Nabak people about God's ultimate forgiveness. In turn the Nabak people showed her a beautiful model of reconciliation. Fabian then stayed in Papua New Guinea with the Nabak people to finish the translation of the New Testament process. She hopes her experiences will help give her a platform to teach others a valuable and powerful lesson about moving forward after daunting challenges.
"I learned that forgiveness sets in motion a chain reaction," Fabian said. "There are no loopholes in scripture that excuse us from forgiving. Forgiveness doesn't just change ourselves, it changes others too."
"Outrageous Grace"
By Grace Fabian
ISBN: 978-1-47598-658-7
Paperback: $17.95
Available at http://www.amazon.com
About the author
Grace L. Fabian, MA, DDhc, served with Wycliffe Bible Translators, first in Mexico and then in Papua New Guinea. The mother of four children, Grace now lives in Pennsylvania where she speaks, teaches and writes. Visit her online at http://www.GraceFabian.com.
# # #
EDITORS: For review copies or interview requests, contact:
Brittani Hensel, Account Coordinator
317-602-7137 | bhensel(at)bohlsengroup(dot)com
(When requesting a review copy, please provide a street address)