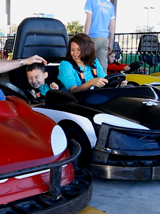 I am extremely proud of the management and team members of the park. We applaud our peers at IAAPA.
Austin, Texas (PRWEB) December 06, 2013
Austin's Park N Pizza has been named the Top Family Entertainment Center (FEC) in the World/ North America, at the International Association of Amusement Parks and Attractions (IAAPA) Expo Brass Ring Awards held in Orlando, Florida on November 20, 2013.
The Brass Ring Awards have been a symbol of excellence for the attractions industry for years. This award honors excellence and achievement in a variety of disciplines and categories including live entertainment, marketing, human resources, retail excellence and family entertainment centers. The facilities considered for the IAAPA Top Award are judged on a variety of criteria including community relations, website review, marketing, guest relations, general appearance, staff hospitality, cleanliness, attractions, food, safety and more.
"I am extremely proud of the management and team members of the park. We applaud our peers at IAAPA and express how extremely grateful we are to be bestowed with such an incredible honor," said Michael Goss, director of operations for the company.
Austin's Park N Pizza has spent the last year upgrading and renovating the entire park. Investments include an upgrade in the food and beverage offerings, a significant number of new games, a new laser tag system and the marquee new "slick track go-karts." This week, the Park opened a new outside section featuring family-oriented rides, including the Crazy Fire Chief , The Fiesta Roller Coaster, Samba Balloons and Swings in the Park.
The new rides complement Austin Park's existing attractions, including bumper boats, mini-golf, batting cages, go karts, rock climbing, and arcade games. Austin's Park has been the family fun destination in Austin for a decade, and the park has become a favorite destination for corporate events in Austin, as well.
Goss concluded, "The team has excelled to create the most family and business friendly entertainment center possible - one that is not only fun and safe but offers the best all-around entertainment value."
To celebrate the Park's 10th year and award, Austin's Park N Pizza is holding a special event known as SuperTenTastic day on Saturday, December 14th. Details can be found at http://www.AustinsPark.com.