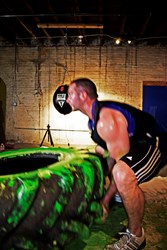 New York, NY (PRWEB) December 05, 2013
Strength pays homage to Coffman's painting mentor, COLOMBIAN ARTIST/MURALIST JORGE ALVAREZ who lost his battle with HIV in 2007. The two met while Coffman was competing in men's lacrosse at the Savannah College of Art and Design in 2004. It was a recommendation from Coffman's coach to take a course offered by Alvarez that brought them together. Working under Alvarez in his studio for the next three years, Coffman learned the classical academic approach to painting. This also gave him the opportunity to paint a mural under the direction of Alvarez for the Brooklyn Diner, located in Times Square.
In order to deal with the passing of his mentor in 2007, Coffman began to incorporate components of his athletic training into his artwork. His first breakthrough came in the form of a 400 lb. tractor tire that he covered in paint and flipped across a large piece of canvas. The piece began as a form of catharsis, but was eventually the spring board for what Coffman's work would ultimately become.
STRENGTH will feature paintings, sculpture, and a large scale interactive performance piece.
The performance piece is Coffman's tribute to his mentor. It combines elements of art, athletics, and live Latin jazz music resulting in a large scale painting to be created that evening. The music will be provided by the Gabriel Guerrero Quartet, presented by the New York Jazz Academy.
THE EVENT IS OPEN TO THE PUBLIC. TO SEE MORE GO TO http://www.MITCHELCOFFMAN.COM
FOR ALL INQUIRIES CONTACT: INFO(at)MITCHELCOFFMAN(dot)COM
###