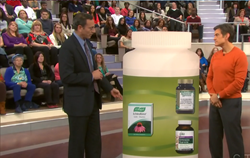 Echinaforce named one of top three supplements for cold and flu on Dr. Oz show.
Ghent, New York (PRWEB) December 06, 2013
On November 27, 2013 Dr. Oz named Echinaforce® from A. Vogel as one of the top three supplements for cold and flu. His website states: "the A. Vogel product has not yet been tested by ConsumerLab.com, but a clinical study published after we completed our tests found it to reduce the number of cold episodes and their duration by 26% if taken throughout the cold season."
Echinaforce®, produced by A. Vogel is made according to Swiss Pharmaceutical Good Manufacturing Practices in Roggwil, Switzerland. As part of these GMP's each batch is tested to ensure that what is on the label is in the bottle. And even though the Echinacea is certified organically grown, the plants and water used in each batch are also tested to ensure there is no contamination with heavy metal residues, pesticides and microbial and fungal contamination.
The efficacy of Echinaforce in supporting a healthy immune system has been shown in 14 published studies, including the world's largest double blind, randomized, published clinical study on Echinacea to date. Each study has consistently shown efficacy in various parameters of immune health. Bioforce AG, Rogwill, Switzerland is known for its "gold standard" research on herbs. Bioforce received the American Botanical Council's Varro E. Tyler Commercial Investment in Phytomedicinal Research Award in 2011. It's meta-analysis on Echinacea was chosen as one of the top 25 research papers for the prestigious Annual Bibliography of Significant Advances in Dietary Supplement Research, published by The National Institutes of Health, (NIH) Office of Dietary Supplements.
Through the years research results on Echinacea have been mixed, while research on Echinaforce has been consistently positive. Commercial preparations of Echinacea Purpurea vary greatly in the manufacturing procedures and consequently in their potency. The latest Echinaforce® study shows that the Vogel combination of fresh 5% Echinacea root and 95% herb, extracted in ethanol provided the optimum modulating effect on the immune system.
Pierce Sioussat, President of Bioforce USA stated "Alfred Vogel, the Swiss Naturopath who founded Bioforce, saw that Echinacea had a wide spectrum of actions, with gentle, yet profound effects on the body. Bioforce has focused its research on understanding the power of this plant to gain the greatest health benefits from it. This latest study is another important step in that direction. It is very gratifying to now have clinical evidence that the unique combination of fresh herb and root that Alfred Vogel determined empirically to be the best, is now proven in multiple published clinical studies."
About Bioforce USA
Bioforce USA has created long-term strategic alliances with European manufacturers of product lines that have years of clinical research support for safety and efficacy, plus years of repeat consumer use. Bioforce USA has brought these lines, which include A. Vogel, Sanhelios, Herbatint, Annemarie Börlind, Bionorica and SECURE exclusively to the United States for distribution through natural products and health food stores.
For more information call Eileen Sheets at 800-641-7555 x100.