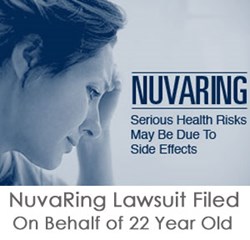 If you or someone you love suffered a blood clot, pulmonary embolism, deep vein thrombosis, heart attack, stroke or sudden death while using NuvaRing, visit yourlegalhelp.com, or call 1-800-399-0795
Columbus, OH (PRWEB) December 03, 2013
Wright & Schulte has recently filed a NuvaRing lawsuit on behalf of a 22-year-old woman from Dayton, Ohio who allegedly developed life threatening blood clots due to her use of the birth control NuvaRing. This lawsuit (Case No. 3:13-cv-00328-WHR) was filed on September 24, 2013 in the U.S. District Court of Ohio. It contends that the defendants, Organon USA, Inc. and Merck & Co., Inc., marketed NuvaRing as a safe and effective form of contraception, despite knowing about the serious side effects linked to it.
The NurvaRing lawsuit, filed by Wright & Schulte LLC, states that the plaintiff started using NuvaRing in March or April 2012. On April 22, 2012, the plaintiff reportedly experienced severe chest pain and shortness of breath. These symptoms caused her to go to the hospital, where she submitted to a CT scan. Following this scan, medical professionals told the plaintiff that she had developed massive bilateral emboli (blood clots) in her lungs, as well as deep vein thrombosis in her right leg. To treat these life-threatening complications, the plaintiff was hospitalized for 15 days and was placed on anticoagulation therapy, including Coumadin, Fragmin and Lovenox. In the aftermath of her hospitalization, the plaintiff has had to continue anticoagulation therapy and attend regular follow-up doctor's appointments to monitor her health.
Negligence alleged in NuvaRing Lawsuit:
This NuvaRing blood clot lawsuit contends that, while the plaintiff's use of NuvaRing caused her to develop life-threatening injuries, Organon and the other defendants knew about the substantial risks of such side effects and, nevertheless, failed to warn the public about them. In fact, according to court documents, this NuvaRing lawsuit alleges that the defendants purported the safety and effectiveness of NuvaRing and failed to warn women about the serious risks of deep vein thrombosis and pulmonary embolism associated with NuvaRing use.
The complaint further contends that this case should be transferred to the federal NuvaRing multidistrict litigation (MDL) currently underway in U.S. District Court, Eastern District of Missouri. Currently, there are more than 1,500 NuvaRing blood clot lawsuits pending in the Missouri MDL. The first bellwether case in this litigation has been set to get underway in April 2014, according to an Order dated October 8, 2013. In this Order, Judge Rodney W. Sippel, who is overseeing the federal NuvaRing litigation, directed that all discovery, motions and rulings be stayed in the federal NuvaRing lawsuits until December 2013. Judge Sippel also mandated that the plaintiffs' lawyers conduct a census "of all claims they are pursuing, whether they are pending in federal court, state court or have not yet been filed." According to the Order, the information sought by the Court must be presented by October 28, 2013. (In re NuvaRing Products Liability Litigation, MDL 1964)
For further information on this and other NuvaRing lawsuits visit our website.
Wright & Schulte, LLC focuses on defending the rights of those who have sustained serious injuries after using dangerous medications and defective medical devices. Our skilled NuvaRing attorneys are experienced at successfully defending the rights of those who have been injured. We encourage those who believe that they have been injured due to the use of NuvaRing to speak with our knowledgeable and experienced NuvaRing lawyers by visiting yourlegalhelp.com or by calling 1-800-399-0795.
About Wright & Schulte LLC
Wright & Schulte LLC, an experienced personal injury firm, is dedicated to the belief that America's legal system should work for the people. Every day, the attorneys of Wright & Schulte LLC stand up for the rights of people who have been injured or wronged and fight tirelessly to ensure their rights. You deserve a law firm that will guarantee the aggressive and personal representation you deserve, contact Wright & Schulte LLC today. Free NuvaRing Lawsuit case evaluations are available through yourlegalhelp.com or by calling 1-800-399-0795.
Contact:
Wright & Schulte LLC
"An Experienced Harmful Drug Law Firm"
1-800-399-0795
http://www.yourlegalhelp.com