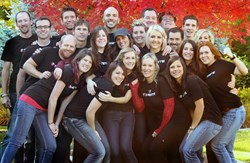 We have learned that brilliant people like to be around others who are brilliant.
Eagle, ID (PRWEB) December 04, 2013
TSheets.com is excited to announce the addition of J.D. Mullin, to the TSheets Development team, as Research and Development Manager for TSheets Web-based time tracker, iPhone and Android Apps (built and supported in house) and future development initiatives.
Previously a Software Architect for Sybase, then WhiteCloud Analytics, J.D. brings 15+ years' experience in software engineering, development, architecture, and upper-level management to the TSheets team.
In the midst of a competitive market for software engineers, TSheets has consistently secured elite developers like J.D. According to the CEO of TSheets, Matt Rissell, "We have learned that brilliance attracts brilliance, as long as egos are in check. Our CTO, Brandon Zehm is brilliant, one of our secret weapons; the best of the best love being on his team." Another reason top software engineers are choosing TSheets is they like working with fun, challenging technologies such as: PHP, Linux servers, MariaDB, advanced JavaScript including a custom AJAX engine with queuing and retries, a platform architected to run in multiple datacenters concurrently (preventing virtually all downtime), and more. If that isn't enough, TSheets engineers set up, manage, and run their own DNS, Apache, and MariaDB servers, and routinely use custom Linux firewalls, ssh tunnels, LVM, RAID, and many other technologies to create the robust service TSheets' customers enjoy.
Founded in 2006, TSheets has grown 100% year over year, and in 2013 became the #1 rated and reviewed time tracking app in the Intuit ecosystem. As a Silicon Valley-esk technology company, nestled next to the Boise River in Eagle, Idaho, Rissell anticipates hiring more great software engineers in 2014, stating, "I couldn't be more grateful that we are one of the few companies that can offer both quality of life and the best of tech at the same time."
About TSheets
TSheets is a Web based employee time and attendance software used by thousands of companies and their employees around the world. TSheets is a unique Software as a Service (SAAS) from the development standpoint, as it was designed from the start to run live in multiple datacenters, with replicating databases to prevent any downtime, both TSheets apps for iPhone and Android have been built and continue to be supported in house, and much more from the technology standpoint.
Providing an easy-to-use employee interface, Web-based and mobile tracking, reporting and a seamless QuickBooks integration, it's no wonder TSheets is the number #1 employee rated and requested time tracker on the planet.