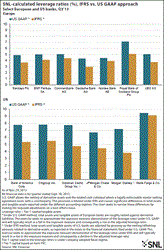 Under SNL figures, taking an IFRS view, the U.S. investment banks might struggle to meet the 5% to 6% being demanded within four years
London, United Kingdom (PRWEB) December 05, 2013
During the past year, the leverage ratio has rapidly become a key measure for regulators and legislators around the globe who are looking long and hard at strengthening bank capital. This reflects the mistrust of risk-weighting assets — the authorities are seeking to ensure that all globally significant banks have a minimum of capital on their balance sheets irrespective of their assessed risks.
The Basel Committee is testing a 3% ratio until 2016-end, but already moves are afoot around the globe to lift the figure higher and sooner. Much now depends upon the committee's final definition of the ratio, which is due in early 2014, while the EU is poised to determine the rules for leverage disclosure by banks from Jan. 1, 2015.
In line with the need for transparency, important for investors as well as regulators, SNL has tried to create a standardized picture of leading U.S. and European banks and their leverage ratio.
In fact, this is extraordinarily difficult. Our figures do underline one of the key issues faced by the Basel Committee — the widely varying effects of accounting standards, notably the difference between U.S. GAAP and IFRS. The charts produced by SNL also reveal that both the numerator and the denominator of this ratio are far from clear, as JPMorgan and Morgan Stanley have indicated.
We have taken two variants of the ratio under both U.S. GAAP and IFRS. The first, tangible equity as a percentage of tangible assets, might be seen as a standard balance sheet view; the second, using Tier 1 capital as cited by the banks, tries to replicate the regulators' view. We use tangible equity to exclude intangibles such as goodwill and intellectual property.
Overall, there is an average variation of some 10 to 30 basis points attributable to the differing numerator definitions. This is large enough to be significant but not to be worrying overall.
For individual institutions, however, it makes a weak ratio look even worse; this applies especially to Deutsche Bank AG. It is not surprising that its hierarchy has repeatedly publicly criticized the leverage ratio.
More dramatic overall is the effect on the leverage ratio of imposing U.S. GAAP standards on European banks and, in particular, IFRS standards on U.S. banks. This significantly reduces but does not eliminate the apparent capital gap between the two systems. This exists, as European bankers like to point out, not least because U.S. banks do not have very large mortgage books, unlike their European peers. Mortgage lending in Europe is also, generally, less risky.
One key issue is the way that derivative assets are treated; eliminating the netting of derivatives used under U.S. GAAP means that U.S. banks appear distinctly less strong, on average only 60 basis points better than our European cohort on the basis of our "regulatory" leverage ratio.
It is, indeed, noticeable that the capital position of Morgan Stanley on this view is worse than that of Barclays, UBS, Société Générale SA and BNP Paribas SA. JPMorgan is better capitalized but is still weaker than our European cohort on average while standing better than most of the leading European investment banks.
It is, indeed, clear that the investment banks' capital looks significantly weaker than the retail banks' under any measure. Yet it is also clear that accounting standards have a massive effect generally on the leverage ratio; using U.S. GAAP instead of IFRS to calculate the leverage ratio benefits Morgan Stanley and Goldman Sachs Group Inc. by more than 300 basis points, a truly massive figure.
Under SNL figures, taking an IFRS view, the U.S. investment banks might struggle to meet the 5% to 6% being demanded within four years, yet such figures would clearly also be a stretch for many leading European banks. The issuance of new Tier 1 instruments such as contingent convertibles looks sure to be part of the answer.
Although much detail needs to be concluded, the overall picture for investors and bank management is troubling. The pressure on banks to strengthen capital and reduce assets will continue to be fierce. This means that the capital repatriation story, which has driven bank shares on both sides of the Atlantic, looks increasingly weak.
Read the full report: http://www.snl.com/InteractiveX/Article.aspx?cdid=A-26103995-12332.
About SNL Financial
SNL Financial is a leading provider of financial information on more than 3,300 public companies and 50,000 private companies in the business sectors critical to the global economy: Banking, Financial Services, Insurance, Real Estate, Energy, Media & Communications and Metals & Mining. The SNL information service integrates breaking news, comprehensive data and expert analysis into an electronic database available online and updated around the clock.