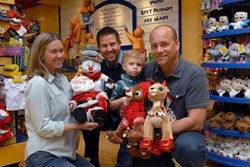 Houston, TX (PRWEB) December 04, 2013
Now's your chance to join Team Bennett in collecting "Build-a-Bears" to donate to kids at Texas Children's Hospital this holiday season. John Daugherty, Realtors' own sales associate Chris Foster has been helping Bennett Nester and his family with this amazing project going on two years now and encourages all his fellow realtors to do the same.
"I think the courage of children like Bennett and the battle they fight every day is inspiring to me and in a time of giving it's the least anyone can do to put a smile child's face," says Foster.
On December 14, 2011, Bennett Nestor was diagnosed with brain cancer right before Christmas. His family spent the days leading up to Christmas in Texas Children's ICU unit and were blow away at the number of gifts people were donating to the children during this very difficult time. One gift Bennett got while in the hospital was a brown "Build-a-Bear" which he still loves today. The following Christmas, the Nester Family decided to give back to other families who had to be in the hospital during holidays. In December 2012, Bennett's Bears was created, and was able to give more than 250 Build-a-Bears to the children at Texas Children's Hospital. With your donations this year they hope to top that number. Four-year-old Bennett is still undergoing treatment today and continues to be a fighter!
Donations will be accepted through December 10, 2013. Bears must be from "Build-a-Bear" or gift cards. Donation address: 4506 Green Forest Pass, Houston, Texas 77084. For more information call Brande at 713-894-7774 or email benennettnester(at)gmail(dot)com.