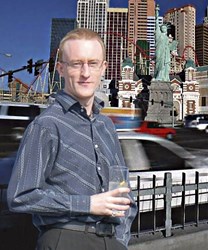 Help set a record for the Worlds largest live online video streaming Hypnotherapy session and change your life for the better at the same time!
Rochdale, Greater Manchester (PRWEB UK) 5 December 2013
In celebration of World Hypnotism Day on 4th January 2014, British television hypnotist and international celebrity mind therapist Dr. Jonathan Royle is planning to set a new world record whilst also helping people around the world to change their life's positively and beneficially for the better with his free online event entitled "The Perfect You"
This approx 75 to 90 minutes live video streaming group hypnotherapy session is being structured so that whatever habit, addiction, fear, phobia or other problem/issue you may have this session could prove highly beneficial for you.
Royle, Aged 38 of Rochdale, Greater Manchester, England is hoping that people will get involved and help in spreading the word about this event on social media networks such as Facebook, Twitter, Linkedin, Google Plus and other places such as internet forums and message boards.
With your help it is hoped that Royle can achieve his dream of setting a new world record, (for the worlds biggest ever live online video streaming group hypnotherapy session) whilst also helping hundreds of thousands (perhaps even millions) to change their life's for the better during this unique event.
Background = In 2010 one of Royle's colleagues hypnotherapist Chris Hughes attempted to set a record for the worlds largest online hypnosis session with his Social Trance event.
Unfortunately this event was plagued with problems and the event did not ultimately occur fully live due to both technical difficulties and also fears of potential legal issues.
However thanks to advances in software and online video streaming, such as those offered by the hangouts service on Google Plus, this event "The Perfect You" will most definitely take place live on Saturday 4th January at 5pm UK GMT which is 12pm Est and 9am rest of U.S.A.
The live session, lasting between 75 to 90 minutes, will be broadcast by video streaming at no charge to those who have registered for their place in advance at the official website of http://www.FreeHypnosisEvent.com
Thanks to the structure of Royle's unique approach of Complete Mind Therapy which combines the most powerful and effective elements of conventional Hypnotherapy, NLP, Creative Visualization and other proven psychological treatment techniques, this live online video streaming session is suitable for most everyone!
The session has been carefully formulated so that whether you have a fear, phobia, habit or addiction that you wish to eliminate from your life, or perhaps you have pain due to arthritis which you wish to learn to control, or maybe you need more confidence in some area of life, or maybe your desire is just to learn how to overcome stress in your life, then the truth is, that whatever your problem, issue or complaint, this "Complete Mind Therapy" session could help you change your life for the better!
At the start of the event, Royle will demonstrate the power of Hypnotism by making viewers unable to open their eyes, locking their hands together, sticking them to their chairs and even making them unable to say their own names out loud.
And then of course the main section of 45 minutes or so will be devoted to guiding viewers into a deep state of Hypnosis and enabling them to change their life's for the better, whilst also enabling them to stick to their New Years Resolutions with ease.
You are in Safe hands with Royle, as he is firmly established as one of the Worlds Leading experts on all areas of Hypnosis, is regularly consulted for advice and training by other leading Hypnotists and is the author of dozens of books and literally 100's of home study DVD training courses on all matters of the mind.
Hypnosis is an often misunderstood subject and so you are encouraged to contact Dr. Jonathan Royle today to arrange an interview.