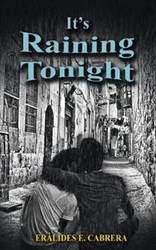 The world may look tolerant of the social changes made, but people still face prejudice.
Newark, N.J. (PRWEB) December 04, 2013
Despite significant strides in the battle for acceptance and tolerance in our society, many people still battle discrimination and judgment for their chosen relationships.
In Erálides E. Cabrera's new book, "It's Raining Tonight", he tells the story of a young interracial couple and their experiences with love, conflict and the obstacles of both family and society. Cabrera provides an emotional and hopeful look at the difficulties surrounding interracial relationships in a modern world, including prejudice, acceptance and expectation.
"This is a story about love, passion, the defeat of evil and hope," said Cabrera. "Much like the negativity behind prejudice is relentless, I set the book amid steady rain to symbolize the difficulties the characters have to deal with constantly."
Originally from Cuba and having spent years in Spain, Cabrera came to the United States more than 50 years ago. His experiences living in different countries, as well as his extensive career in law, have exposed him to a variety of mindsets and changes.
"The world may look tolerant of the social changes made, but people still face prejudice and hate," said Cabrera. "I wrote this book not only because I enjoy writing stories of love and hope, but also to tackle sensitive topics relating to today's society."
For more information, please visit http://www.eralidesecabrera.com.
"It's Raining Tonight"
By Erálides E. Cabrera
Paperback $16.95
E-Book $3.99
ISBN 9781477232507
Available at bookstore.authorhouse.com, amazon.com, barnesandnoble.com.
About the author
Erálides E. Cabrera is a practicing attorney in New Jersey. He graduated from Brooklyn Law School and spent his first four years of practice in active duty in the U. S. Navy. Since then, he has been a private attorney who writes fictional love and drama stories. Some of Cabrera's most notable books include "Let the Breeze Blow", "Gloria's Cradle" and "Veredicto" among others.
# # #