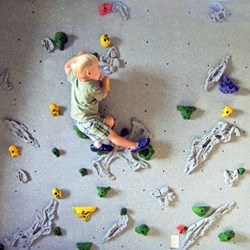 There is no better surprise for your kids Christmas morning than their very own rock climbing wall.
Mendota Heights, MN (PRWEB) December 04, 2013
As holiday shoppers are in a constant search for new and unique gifts for the holiday season, Everlast Climbing has launched a line of DIY Climbing Wall Kits. These kits turn any rec room, bed room or home gym into an active-adventure space. Kits range in price from $34 to $6,000. DIYers can choose from the basic "build-your-own" model which requires a person to find and outfit their own paint, plywood and 2x4's, to the factory installed top end model which includes everything needed and is professionally installed in the home.
Active fitness gifts and games have become more popular as today's parents try to limit "screen time" and encourage children to be more physically active. Climbing walls are a great way for kids to have fun and get in a healthy amount of physical activity. Climbing builds strength in the upper and lower body and provides a cardiovascular workout. It also involves problem solving, concentration, and perseverance. Climbing often captivates children not typically interested in physical activity. It is a sport all ages enjoy and is a great family activity.
Tracy Whitney, Director of Marketing at Everlast Climbing says "Parents are always searching for the next great gift, and DIYers have always been searching for a way to build their own climbing walls. The holidays were the perfect time to launch the new line of Home Climbing Wall kits." Complete accessory packages are also available including everything from safety mats to add-on games and activity guides. "There is no better surprise for your kids Christmas morning than their very own rock climbing wall," says Whitney. "You should see how their faces light up!"
About Everlast Climbing
Everlast Climbing is committed to improving youth fitness with dynamic and innovative products that engage children and inspire physical activity. The company is headquartered in Mendota Heights, MN, and is part of EverActive Brands, a division of PlayCore of Chattanooga, TN. More information is available about Everlast Climbing at http://www.everlast climbing.com. More information is available about PlayCore at http://www.playcore.com.