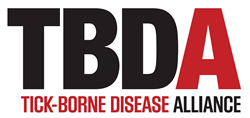 Washington, D.C. (PRWEB) December 04, 2013
The Tick-Borne Disease Alliance (TBDA), one of the country's most authoritative voices on Lyme disease, today held a forum on Capitol Hill in support of legislation designed to combat the alarming growth of the tick-borne illness across the United States. Recent findings from the Centers for Disease Control (CDC) indicate that Lyme disease is a "tremendous" public health problem, infecting 300,000 people every year, 10 times more than previously reported.
David Roth, co-chairman of the TBDA, Patricia DeLaMora, a pediatric infectious disease doctor, and Lyme disease advocate Heather Thomson of "The Real Housewives of New York City," were among those meeting with representatives from Senator Kirsten Gillibrand's (D-NY) office to discuss the growing epidemic and the federal government's efforts to improve awareness, prevention and diagnostics. Gillibrand has joined Senators Richard Blumenthal (D-CT), Jack Reed (D-RI) and Sheldon Whitehouse (D-RI) to cosponsor the Lyme and Tick-Borne Disease Prevention, Education, and Research Act, which would establish a Tick-Borne Disease Advisory Committee and invest additional federal funds into Lyme disease research and education. Congressman Chris Smith (R-NJ) – who founded and co-chaired the Lyme Disease Caucus in Congress – has sponsored similar legislation in the House.
"The Tick-Borne Disease Alliance supports the ongoing efforts of these legislators and we will continue to work with Congress to protect Americans from this debilitating illness," said Roth, who is a managing director at Blackstone. "We're committed to improving the flawed diagnostic process through additional education and research, and we're confident today's meeting got us one step closer to achieving that goal."
If an infected tick bite is left untreated, Lyme disease can result in fever and flu-like symptoms, severe joint pain, and/or travel to the brain and cause neurologic problems that are often misdiagnosed. In fact, the National Institutes of Health (NIH) found that the impact of Lyme disease on physical health status was at least equal to the disability of patients with congestive heart failure, osteoarthritis and greater than those observed in type 2 diabetes.
"Primary care providers are a patient's first line of defense when it comes to identifying and treating Lyme disease," said Dr. DeLaMora, who is an assistant professor of pediatrics in the Division of Infectious Diseases at Weill Cornell Medical College and assistant attending pediatrician at NewYork-Presbyterian Phyllis and David Komansky Center for Children's Health/Weill Cornell Medical Center. "I'm seeing more and more cases of Lyme disease in children, which is why it's imperative providers have the proper tools at their disposal to identify and treat this disease quickly. The current diagnostics for Lyme disease are unreliable in the early stages when recognition and treatment are vital; and cannot accurately distinguish between old and new infections. Children are disproportionately affected by Lyme disease. We need accurate diagnostics and a well-educated medical community."
The Tick-Borne Disease Alliance recently raised additional funds for Lyme disease research through a nationwide public awareness campaign called "Bite Back for a Cure." 24-year-old John Donnally – who has fought Lyme disease since the age of nine – embarked on a two-month, 3,500-mile cross-country cycling tour from San Francisco to New York City and raised $70,000 as part of the effort.
About the Tick-Borne Disease Alliance
The Tick-Borne Disease Alliance is dedicated to raising awareness, promoting advocacy and supporting initiatives to find a cure for tick-borne diseases, including Lyme. As part of its efforts, TBDA is embarking on a quest to develop a reliable diagnostic tool as a first step toward eradicating the diseases. Working with others in the tick-borne disease community nationwide, TBDA seeks to raise public awareness through education and create a unified voice for advocacy regarding the current epidemic in order to make a real difference. More information about TBDA, Lyme and tick-borne diseases, and prevention and protection can be found at http://www.TBDAlliance.org.