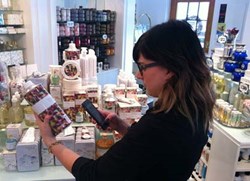 It's an exciting advance in mobile payments for both consumers and retailers. SelfPay allows independent retailers to outsmart big box stores by offering a seamless combination of both shopping and paying.
Toronto, Ontario (PRWEB) December 04, 2013
Toronto-based company, Digital Retail Apps™, announced today the launch of its ground breaking mobile app, SelfPay®, at LUX Beauty Boutique in Edmonton AB, Canada. With SelfPay, shoppers can make payment and look up product information on their own devices, enabling shopper-controlled in-store checkout from anywhere within a brick-and-mortar store. LUX Beauty Boutique will host a SelfPay launch party at its store on Friday, December 6.
"Nothing stresses me out more than seeing frustrated faces in a slow-moving line," said Jennifer Grimm, LUX Beauty Boutique owner and Chief Visionary Officer "We are thrilled to launch SelfPay in time for the holiday rush and offer clients the ability to skip the line during the hectic shopping season."
SelfPay is a multi-retailer solution that enables shoppers at participating retailers to scan products in store, view pricing and information, and pay for their purchase from their own device. With the SelfPay mobile app, shoppers skip the checkout line and leave with their items in hand as soon as payment is completed. Retailers can use the patent-pending purchase verification method to ensure that all items leaving the store have been paid.
"With SelfPay, shoppers can simply scan, pay and go," said Wendy MacKinnon Keith, CEO and founder of Digital Retail Apps. "It's an exciting advance in mobile payments for both consumers and retailers. SelfPay allows independent retailers to outsmart big box stores by offering a seamless combination of both shopping and paying."
To prepare for the LUX Beauty Boutique launch, Digital Retail Apps worked closely with Vend, a leading cloud-based POS provider, to fully integrate product information. The implementation of Vend ensures that LUX has one product database to maintain, and that shoppers do not see prices from competing retailers while in-store.
Beanstream, Digital Retail Apps' payment partner and a Digital River company, was instrumental in the implementation, enabling LUX to remain with its existing payment processor and enabling SelfPay to perform consumer-led wireless payments. Consumer purchases made via the SelfPay platform are directed through the Beanstream gateway and are settled to LUX's existing merchant payment account. Consumers only need to load their payment credentials once, and they can be used again at participating retailers.
The SelfPay launch party will be located at the LUX Beauty Boutique and is open to the public. Digital Retail Apps' CEO Wendy MacKinnon Keith will be in attendance.
SelfPay can be downloaded today from the Apple App Store or at http://appstore.com/selfpay. SelfPay can be used at LUX Beauty Boutique on iPhone 4, 4S, 5, 5C and 5S devices running iOS7. An Android version will be released in early 2014. SelfPay's second retailer, Toronto, Canada based Gotstyle, will be featured in-app beginning January 2014.
About Digital Retail Apps
Digital Retail Apps is a privately held, Toronto-based company focused on providing retail shoppers with completely seamless shopping and payments. The company's flagship mobile app, SelfPay, changes retail by giving shoppers the ability to shop and pay from anywhere in-store directly on their own mobile device. From online to in-store and browsing to payments, SelfPay unifies a fragmented brick and mortar shopping experience. Digital Retail Apps provides an in-aisle shopping solution that is always where the shopper is; across multiple retailers, devices and payment methods.
About LUX Beauty Boutique
LUX Beauty Boutique is Edmonton's original apothecary devoted to the hot, hard-to-find beauty brands loved by celebrities, editors and product junkies. Since 1999, the LUX team has emphasized the shopping experience, deeply understanding that consumers are searching for more than just product. LUX anticipates and responds to clients' expectations, values and unspoken needs through superior service and strategy. With a forward-thinking retail team, a sought-after product mix, and deep community connection in a beautiful, well-planned retail environment, LUX Beauty Boutique sets itself apart.
About Vend
Vend provides cloud-based point-of-sale software to enable retailers to process sales, track inventory, integrate e-commerce, as well as manage customers and loyalty programs. It is the world's first HTML5 retail POS and works easily on any device or platform, including iPads and existing POS hardware. It even works offline. Vend easily integrates with existing retail hardware and payments systems as well as cloud based small business apps, including e-commerce, accounting, foot traffic analytics and loyalty, to help retailers easily start, manage and grow their business. Vend has over 8,000 customers in more than 100 countries.
About Beanstream, a Digital River Company
Beanstream Internet Commerce is situated in Canada and provides, payment, risk management and authentication solutions. Digital River, Inc., the parent company, builds and manages online businesses for software and game publishers, consumer electronics manufacturers, distributors, online retailers and affiliates. Its multi-channel commerce solution, which supports both direct and indirect sales, is designed to help companies of all sizes maximize online revenues as well as reduce the costs and risks of running a global commerce operation. The company's comprehensive platform offers site development and hosting, order management, global payments, cloud-based billing, fraud management, export controls, physical and digital product fulfillment, multi-lingual customer service, advanced reporting and strategic marketing services.
Media Contacts:
Wendy Mackinnon Keith
CEO Digital Retail Apps
wendy(at)digitalretailapps(dot)com
(416) 994-4771
Jeff Ketner
Ketner Group
jeff(at)ketnergroup(dot)com
(512) 794-8876
TRADEMARKS: The SelfPay wordmark and Digital Retail Apps "bag" logo are both trademarks of Digital Retail Apps.