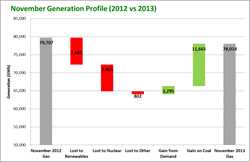 Boston, MA (PRWEB) December 04, 2013
For the second month in a row, gas-fired generation gained ground on coal compared to the previous year by not falling off nearly as sharply. With total power demand up 1% from November 2012, gas-fired generation decreased by a mere 2% while coal stumbled 9%. Nuclear generation and renewables continued to show strength, pushing the higher priced fuels from the stack.
Nuclear generation was up 13% versus the previous November after Hurricane Sandy helped drive increased unplanned outages in 2012. That, combined with a many late refueling outages, drove last year's nuclear output to the lowest November since before 2001. Brown's Ferry 1, Point Beach 2, Prairie Island 1, Sequoyah 2, Summer, Surry 2, and Waterford 3 were all at 100% this year versus being offline in 2012. Overall, 31 nuclear units ran at least 15% stronger in November 2013, while only 15 were at least 15% weaker.
Renewables continued their strong 2013 and were up 20% this month compared to last November and 7% stronger year-to-date. Year-to-date gas-fired generation continues to lag 2012 by 12% as coal still holds onto a narrowing 4% increase.
Genscape's Generation Fuel Monitor Report offers daily views of fuel consumption at U.S. power plants for all power sector fuels: coal, gas, hydro, wind, nuclear and oil. The report takes advantage of Genscape's thousands of patented and high-tech in-the-field energy monitors and proprietary models built by Genscape's analysts and developers. Learn more or register for a free trial here: http://info.genscape.com/fuel-monitor-Dec13.
About Genscape
Genscape is the leading global provider of real-time data, analytics and forecasting services for commodity and financial markets, driven to improve market transparency and efficiency. With thousands of patented monitors strategically deployed worldwide, Genscape is unique in its ability to collect and report proprietary market actuals in real-time or near real-time. Genscape provides world-class solutions across a number of markets including: Oil, Power, Natural Gas, Agriculture, Petrochemical and NGLs, Maritime, and Renewables. Genscape clients often gain first-mover advantage, improve risk management, increase operational efficiency, or achieve better compliance. For more information, please visit: http://www.genscape.com.
For all press inquiries please contact:
Molly Hislop
Marketing Communications Manager
Office: +1 617 790 0903
mhislop(at)genscape(dot)com