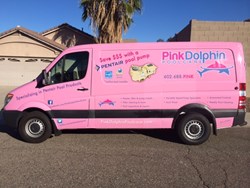 Phoenix, AZ (PRWEB) December 03, 2013
Pool ownership just got less expensive with a partnership between Phoenix pool service companies and electric companies. Each year, homeowners are spending up to $1,000 a year in energy costs just to operate standard, single speed pool pumps. New, energy efficient variable speed pool pumps can save pool owners up to 80% in energy costs.
Beyond that, utility companies including APS and SRP are currently offering rebates to customers who install these new style pumps. APS is offering a $200 rebate while SRP offers a $150 rebate. Pink Dolphin Pool Care can help homeowners qualify for the rebate in replacing single speed pumps with a variable speed pool pump. Beyond that, they are also offering a complimentary pool equipment system inspection, saving homeowners an additional $75. The free pool equipment check is currently slated to last through the end of 2013.
Homeowners can find out more about these great offers at Pink Dolphins new website at http://www.pinkdolphinpoolcare.com. There is an online contact form there as well as a section with other important document including the SRP and APS pool pump rebates on the site.
Steve Riley, owner of Pink Dolphin Pool Care, is excited about the opportunity to help homeowners find a more efficient and cost effective way to maintain their pools. "More pool owners now have the opportunity to cut their bills both with our reduced cost on Pentair Intelliflo® variable speed pumps and rebates from SRP and APS."
About Pink Dolphin Pool Care
Pink Dolphin Pool Care is family owned pool cleaning service and pool repair company that serves the Northwest Valley Phoenix, Glendale, Peoria and Sun City, Arizona. Pink Dolphin Pool Care is licensed with the Arizona Registrar of Contractors (#279692), bonded and insured. Pink Dolphin Pool Care is a member of the Association of Pool & Spa Professionals. Whether you are looking for weekly swimming pool service, need a pool repair or new pool equipment installed, Pink Dolphin Pool Care can do the job. You can be assured that your pool is being cared for by a qualified company that is committed to providing affordable and superior service. We invite you to give us a try and see why so many other Arizona pool owners have made Pink Dolphin Pool Care their pool service company choice.