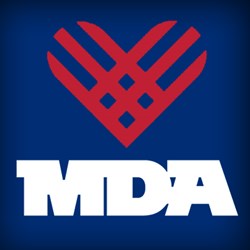 Tucson, AZ (PRWEB) December 03, 2013
Today is #GivingTuesday, and in honor of the global day for giving back, the Muscular Dystrophy Association is kicking off its 2014 Muscle Walk season that will pay tribute to — and raise funds for — children and adults served by MDA.
MDA Muscle Walk is comprised of a series of fun, non-competitive local walks held across the country; it is the largest event of its kind in the United States. There are approximately 150 walks throughout the nation, with walks scheduled from January through April.
"MDA is excited to take part in the special online initiative known as #GivingTuesday, where charities, businesses, families and individuals from all over the world come together to support those in need," said MDA Vice President of Business Development Scarlett Marchman. "Today, we encourage people to give back to MDA in their local communities by going to walk.mda.org and signing up for, or donating to, a Muscle Walk event in their area that will help save the lives of those affected by muscle disease."
Last year, more than 50,000 people participated in MDA Muscle Walks across the country that raised a record-breaking $7 million. More than $23 million has been raised since the Walk's inception in 2011.
To sign up for, or donate to, an MDA Muscle Walk in your area, visit walk.mda.org.
About MDA
The Muscular Dystrophy Association is the world's leading nonprofit health agency dedicated to finding treatments and cures for muscular dystrophy, amyotrophic lateral sclerosis (ALS) and other neuromuscular diseases. It does so by funding worldwide research; by providing comprehensive health care services and support to MDA families nationwide; and by rallying communities to fight back through advocacy, fundraising and local engagement. Visit mda.org and follow us at facebook.com/MDAnational and @MDAnews.
– MDA –