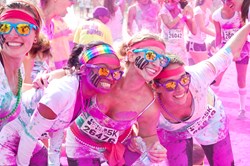 This is your chance to get out of the box and have a great time while you're getting fit.
(PRWEB) December 05, 2013
Runners are gearing up for the most "rad"iculous running event of the year as Color Me Rad 5K announces its registration dates for 2014. Participants in this 5K aren't trying to get their best time; they're trying to have their best time. They aren't awarded in medals, but they take home tie-dyed t-shirts, share-worthy photos, and colorful memories. With locations in more than 100 cities across the U.S. and Canada, Color Me Rad is all about encouraging the fun side of fitness, and three seasons in, people continue to join the rad running revolution.
More than 950,000 runners across North America have participated in Color Me Rad, and races have also opened in Korea, Taiwan, and Australia, with more international race locations slated to open soon. The non-competitive, family-friendly atmosphere makes this race accessible to all. Runners start the race with a sparkling white t-shirt. By the time participants cross the finish line, they'll look like a kindergarten art project gone oh-so-right. Finishers celebrate their accomplishment by throwing their own Color Bomb™ into the air, creating a final explosion of color. In addition to the run, post-race dance parties, innovations such as color blasters, and a "bring your friends" atmosphere keep people coming back each year.
Inspired by the Holi Festival of India, a group of friends decided to bring some excitement to the sport of running through color, music, and a total disregard for the mundane. "We want our runners have a ridiculous amount of fun," said race organizer Scott Crandall. "This is your chance to get out of the box and have a great time while you're getting fit."
Color Me Rad is a for-profit event that gives a portion of the proceeds of each race to a local charity. Since 2012 participants have helped to raise more than $2.3 million for charities. "The only thing better than getting covered from head to toe in color is knowing that it also helps a good cause," Crandall said. "These donations are making a real impact in communities." For example, the funds raised were able to help sponsor homes for Habitat for Humanity, help thousands of athletes at Special Olympics, purchase equipment for a children's hospital in Tennessee, provide books and toys for children in South Carolina hospitals through a charity called Happy Wheels, as well as raising funds for many other charities across the country.
Participants of all ages are welcome to run or walk. Registration is available at colormerad.com.
In 2014 Color Me Rad™ will hold races across the U.S. and Canada in more than 110 cities. For more information and to see additional race locations, visit http://www.colormerad.com or on Facebook at http://www.facebook.com/colormerad5k.