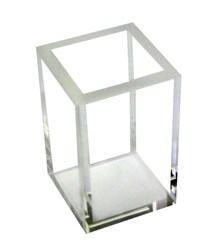 Farmingdale, NY (PRWEB) December 04, 2013
NSG Precision Cells introduced a Ultra High Vacuum Cuvette in 2013, significantly bolstering their product line of spectrophotometer and fluorometer cuvettes. With this new product offering, NSG Precision Cells has established itself as the premier lab equipment manufacturer in the American Northeast.
Ultra-high vacuum cuvettes (UHV) are precision engineered to reduce refraction from spectrophotometer emissions, increasing the accuracy and reliability of detection results. Due to the various standards of spectrophotometer manufacture, NSG Precision Cells produces a variety of different cuvettes with different beam-heights and different tolerances.
NSG, located in Farmingdale, NY, is a consistent innovator in the laboratory equipment field – and one of the largest producers of glass and quartz custom equipment in the world. With an industry-low lead time, NSG is no stranger to time-sensitive projects either. NSG is able to produce custom spectrophotometer cuvettes in five weeks or less, and all of their work is backed up with an unconditional manufacturer's warranty.
With Q1 beginning in less than a month for labs across the country, this is expected to be a busy time of year for NSG Precision Cells. Labs that upgrade their spectrophotometers must upgrade their cuvettes as well, ensuring that the gains in accuracy from their new equipment are not eroded by sub-standard cuvettes with lower levels of clarity.
All of NSG's Ultra High Vacuum Cuvettes are produced in Japan in a cutting edge production facility. With over 50 years of experience, NSG Precision Cells has immense experience in every aspect of polishing, annealing, and assembling glass and quartz products, ensuring that customers receive cuvettes that are high quality and a great value.
Aside from the Ultra High Vacuum Cuvettes, NSG Precision Cells also produces flow cells for particle sizers, quartz plates, quartz microfluidic chips, HPLC detector cells, and virtually any other sophisticated piece of glass or quartz lab technology. All products are manufactured in a Class 5 clean room, and each is inspected by an ISO certified inspection team before leaving the facility. NSG guarantees that every cell will function as intended, and every product will be made to the exact dimensions and tolerances specified in the order.
More information on the Ultra High Vacuum Cuvettes and other NSG Precision Cell offerings can be found at - http://www.precisioncells.com