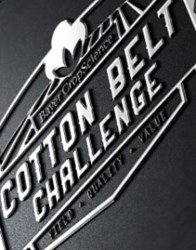 Cotton production varies across the United States, depending on factors such as weather, irrigation, soil type, pest pressure and other factors. We want to recognize successful cotton production in diverse regional scenarios.
LUBBOCK, TEXAS (PRWEB) December 04, 2013
It's the second year of the Bayer CropScience Cotton Belt Challenge™, an achievement program that recognizes U.S. growers who plant a minimum of 50 acres of FiberMax® and Stoneville® cotton seed and produce high-yielding and high-quality cotton. Growers enter by filling out an official entry form and submitting their gin receipts. Winners will be recognized in two categories: highest yield and highest quality, in 12 different regions, for both irrigated and dryland cotton.
All regional irrigated and dryland winners in the yield and fiber quality categories will receive 10,000 Innovation Plus™ points – a $500 value. From those regional winners there will be two grand prize drawings – one for irrigated and one for dryland – for a custom 4WD Bad Boy Buggies® Ambush® vehicle.
"FiberMax and Stoneville cotton varieties have the germplasm and trait technologies to help growers produce profitable cotton yields and fiber quality," said Jeff Brehmer, U.S. product manager for FiberMax and Stoneville cotton. "Cotton production varies across the United States, depending on weather, irrigation, soil type, pest pressure and other factors. We want to recognize successful cotton production in diverse regional scenarios, and the Bayer CropScience Cotton Belt Challenge gives growers a chance to be rewarded by region for producing high-yielding and high-quality cotton."
To qualify, growers must submit their yield and quality results from a minimum of 50 acres and verify their production through gin receipts. Yield is based on ginned lint yield, and quality is based on USDA loan value. If any portion of a field is irrigated, then the entry must be in the irrigated category.
Regions for the contest are:

California and Arizona (irrigated only)
Central and Southern Rolling Plains and Trans-Pecos area of the Southwest
Far North High Plains, North High Plains, North Rolling Plains and Oklahoma
South and East Texas
Georgia, South Alabama and North Florida
Tennessee and North Alabama
South Arkansas and Louisiana
Mississippi
Central Arkansas
Southeast Missouri and Northeast Arkansas
Virginia and Northeast North Carolina
Central North Carolina and South Carolina
In the first year of the Cotton Belt Challenge, growers from California to North Carolina entered the contest. Grand prize winners, Kevin Still of Steele, Mo., and Rondo Farms in Tillar, Ark., each received a customized 4WD Bad Boy® Buggies Ambush® vehicle. Kevin Still won the dryland yield group for the Southeast Missouri and Northeast Arkansas region with a yield of 1,192 pounds with ST 5458B2RF. Rondo Farms won the irrigated yield group for the South Arkansas and Louisiana region with a yield of 1,693 pounds with ST 5288B2F. For a complete list of last year's winners, visit cottonbeltchallenge.com.
"With two new Stoneville GLB2 varieties released in 2013 – ST 4946GLB2 and ST 6448GLB2 – and newer FiberMax varieties like FM 1944GLB2 peforming well across the Cotton Belt, we anticipate a lot of entries for this year's challenge," Brehmer said. "Growers have achieved remarkable yields as they work with our agronomists and sales representatives to plant the right FiberMax or Stoneville varieties on their farms and to fine tune their management practices."
For more contest information, including copies of the Official Rules and Entry Form, contact your Bayer CropScience representative or go online at cottonbeltchallenge.com. For more information on how FiberMax and Stoneville cotton seed offer the right variety for the right field, contact your regional agronomist, local Bayer CropScience representative, seed retailer or crop consultant, visit fibermax.com and stoneville.com, or call 1-866-99-BAYER (1-866-992-2937).
Bayer CropScience is committed to bringing new technology and solutions for agriculture and non-agricultural uses. For questions concerning the availability and use of products, contact a local Bayer CropScience representative, or visit Bayer CropScience online at bayercropscience.us
###
Visit the Bayer Connect - Social Hub for all Bayer CropScience social media, recent news, blog posts, videos and more.
About Bayer CropScience
Bayer is a global enterprise with core competencies in the fields of health care,
agriculture and high-tech materials. This year the company looks back on 150 years of working to fulfill its mission "Bayer: Science For A Better Life". Bayer CropScience, the subgroup of Bayer AG responsible for the agricultural business, has annual sales of EUR 8,383 million (2012) and is one of the world's leading innovative crop science companies in the areas of seeds, crop protection and non-agricultural pest control. The company offers an outstanding range of products including high value seeds, innovative crop protection solutions based on chemical and biological modes of action as well as an extensive service backup for modern, sustainable agriculture. In the area of non-agricultural applications, Bayer CropScience has a broad portfolio of products and services to control pests from home and garden to forestry applications. The company has a global workforce of 20,800 and is represented in more than 120 countries. This and further news is available at: press.bayercropscience.com
Contact:
Bayer CropScience Media Hotline, 1-877-879-6162, or
Beth Roden
Head of Communications & Bayer CropScience NA Coordinator
Bayer CropScience
Tel: (919) 549-2030
Email: beth(dot)roden(at)bayer(dot)com
Drew Harris
Rhea + Kaiser
Tel: (630) 955-2604
Email: dharris(at)rkconnect(dot)com
USA-BCS-2013-0308
Find more information at http://www.bayercropscience.us.
Forward-Looking Statements
This release may contain forward-looking statements based on current assumptions and forecasts made by Bayer Group or subgroup management. Various known and unknown risks, uncertainties and other factors could lead to material differences between the actual future results, financial situation, development or performance of the company and the estimates given here. These factors include those discussed in Bayer's public reports which are available on the Bayer website at http://www.bayer.com. The company assumes no liability whatsoever to update these forward-looking statements or to conform them to future events or developments.
Bayer CropScience LP, 2 T.W. Alexander Drive, Research Triangle Park, NC 27709. Always read and follow label instructions. Bayer (reg'd), the Bayer Cross (reg'd), The Bayer CropScience Cotton Belt Challenge™, FiberMax® and Stoneville® are trademarks of Bayer. Bad Boy Buggies® Ambush® is a trademark of Bad Boy Buggies. For additional product information, call toll-free 1-866-99-BAYER (1-866-992-2937) or visit our website at BayerCropScience.us
CR1113MULTI1A705V00R0