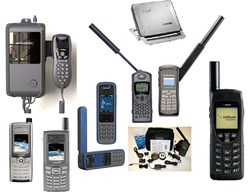 There is a marked difference between lowest price and highest value
Portsmouth, NH (PRWEB) December 03, 2013
GlobaFone, a leading multi-carrier satellite service provider has announced a free webinar designed to help buyers reduce costs while enhancing value when buying Satellite Communications services. The session entitled 'How to Maximize Your Satellite Communications Budget' reveals 'insider secrets' that will lower your costs. The webinar is scheduled for December 11 at 1:00 PM Eastern time. Register here.
"In this tight fiscal environment buyers need to negotiate the best value for their satellite phone budget dollars," said GlobaFone CEO Lou Altman. "The best deal frequently is not just the lowest price. There is a marked difference between lowest price and highest value."
The webinar looks at cost-saving techniques that can trim as much as 20% off your bill. In a step-by-step process Altman shows what to look for in order to obtain the best savings while maintaining the full integrity of your provider.
"In response to increased competition, many providers are commoditizing satellite phones and services which lowers service standards," said Altman. "The lowest price looks great and works for many buyers, until there is a problem and you need help. Then your lowest cost provider is nowhere to be found."
Here is the webinar registration information:
Title: How to Maximize Your Satellite Communications Budget
Date: Wednesday, December 11, 2013
Time: 1:00 PM - 2:00 PM EST
Register: HERE
ABOUT GLOBAFONE:
GlobaFone of Portsmouth, NH is an award-winning, leading service provider of satellite voice and data solutions to Federal, State and Local Governments, and corporate clients. GlobaFone solutions include five brands of satellite communications – Iridium, Inmarsat, Globalstar, Thuraya and VSAT. GlobaFone also provides cellular service for rent or lease with coverage across the planet.
###