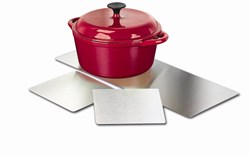 Lima, OH (PRWEB) December 05, 2013
Range Kleen Mfg. has a wide selection of decorative products that protect your kitchen countertops. Range Kleen's durable Silverwave Counter Mats are available in three different sizes. The silver textured design compliments any kitchens décor. Constructed with a silver textured tin surface, and insulated to absorb heat they also feature the additional protection of a non-slip rubber backing to insure safety when removing cookware from stovetop to countertop. The Counter Mat creates a workspace while protecting your countertops from heat damage and discoloration. The Counter Mats and Hot pads are heat resistant up to 300°F.
Sizes range from 17 x 20 inch, 14 x 17 inch, and 8 ½ x 20 inch. Other items available are smaller sized 7 x 7 inch hot pads, which are more pattern based to compliment popular collections. Spoon rests are also available for counter top protection from stains caused by food while cooking. Tomato based food tends to stain if in contact with porous stones and cannot be removed. The existing design spoon rest offers a 3 in 1 functionality acting as a spoon rest, ladle and one quarter cup measuring cup. Range Kleen introduced a NEW design of spoon rest that launched in 2013 to fit any size of spoon while maintaining a sleek and slender appearance. The new and improved spoon rest is available in solid colors: Black, White and Stainless Steel.
For more information and availability, please visit our website: http://www.rangekleen.com.
About Range Kleen Mfg.
Range Kleen Manufacturing, Inc. is a Lima, OH based company manufacturing household products sold to major retail chains globally and has been taking care of the customer (TCOTC) since 1971. Its product divisions include Original Equipment Manufacturing Quality (OEM) replacement drip pans for ranges & stoves; Non-stick Metal Bakeware; Kitchen Decorative products specializing in exclusive licensed designs; Storage, Organization, insulated food and beverage bottles and household cleaning supplies. Range Kleen Introduced their own line of cookware- Stainless Steel and Enameled Cast Iron as well as pot racks in 2007.