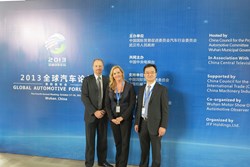 "The initial launch with your dealer staff is crucially important," Blaker told the audience.
Rochester Hills, Michigan (PRWEB) December 05, 2013
The Forum focused on the role of the global auto industry in the Chinese economy and how the future development path of China's auto sector has a major influence on China's economy and an impact on the global automotive landscape.
Blaker was invited to speak to an audience of over 700 of the world's key automotive business leaders, political decision-makers, economists and industry experts. She specifically addressed the relevant issues relating to Chinese automotive enterprises' strategy of "going and succeeding abroad" focusing on developing an export strategy.
"The initial launch with your dealer staff is crucially important," Blaker told the audience. "One way to do this is a training or brand immersion workshop. We recently supported one of our Chinese auto OEM clients to execute such a workshop in support of their launch in a Middle East market."
"Prior to the workshop," Blaker said, "the local importer's staff were not very familiar with our client, but through the workshop, they learned that they had a well established production capability, standardized sales and service processes that make sense for their local market, and a strong technical support system and business scale in line with the more familiar automotive manufacturers. By the end of the workshop, the importers were very enthusiastic and confident to begin selling our client's products, fully understood the strategic value of the partnership with our client, and were well versed in how to best present the product benefits in the right way to achieve a high sales closing rate."
For many Chinese vehicle manufacturers, the primary goal is to get products into a new market as quickly and cost-effectively as possible. Blaker explained that many times, this will mean entering into a partnership with a local importer-distributor in which the local distributor will be representing multiple brands and will already have in place marketing operations, sales and service staff, showrooms, and repair facilities.
Blaker called this the arms-length scenario. In this scenario, the OEM and local distributor will agree upon a transfer price and markup, or distributor margin. From this margin, the distributor is then responsible for the shipping logistics, customs clearance, regulatory compliance and negotiating necessary adjustments to those regulations with the local governments.