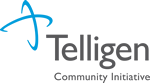 West Des Moines, Iowa (PRWEB) December 03, 2013
Telligen supports innovative health and community-related projects across Iowa and Illinois through the Telligen Community Initiative, a 501(c)(3) charitable organization. Since its inception, we have provided $1.25 million dollars in grants. Grants are distributed annually to help non-profit organizations focused on education, health and community programs. This year, the Telligen Community Initiative provided $150,000 to 10 organizations. Below is a list of winners and a brief description of where the funding will be used.
Iowa Awardees

Visiting Nurse Services of Iowa – Des Moines. The grant will assist in the launch of the Community Voices department; providing healthcare interpretation/translation services in Polk County and outlying areas.
Planned Parenthood of the Heartland – Des Moines. The grant will help support preventive, primary and reproductive health services, education and outreach for homeless and low-income populations residing in downtown Des Moines and surrounding neighborhoods.
Children and Families of Iowa – Des Moines. Grant funds will assist with an outpatient substance abuse counseling program for at-risk youth
Youth Emergency Services & Shelter – Des Moines. The grant will support the agency's mental health therapy and counseling services for children and their families in crisis.
Des Moines Area Religious Council – Des Moines. Grant money will go toward market-style food pantry models, providing improved access to nutritional food for recipients.
Illinois Awardees

CommunityHealth - Chicago. The grant will help support MedAccess, providing life-saving medications for the medically underserved.
School Health LINK, Inc. – Rock Island. The grant will be used to purchase tablets for patients to complete health history questionnaires for entry into their electronic medical record.
Metro Chicago Breast Cancer Task Force - Chicago. The grant will support the Screen to Live program, offering free or low cost breast cancer education, screening and treatment.
Salvation Army Metro Division - Chicago. Grant money will be used to provide nutrition, fitness and social programs for disadvantaged seniors.
Esprenza Health Centers - Chicago. The grant will support the Companeros de Esperanze program, providing accompaniment, interpretation and advocacy for low income residents.
####
For more than 40 years, Telligen Population Health Management solutions have improved the quality and cost-effectiveness of healthcare for consumers and providers. Telligen serves commercial clients and government programs at the federal, state and local level, improving health outcomes for millions of people nationwide. For more information, visit us at telligen.org.