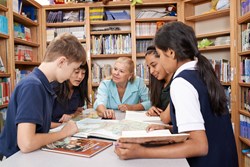 Earning this designation reflects the dedication of our educators to bring excellence into our Imagine classrooms... – Dr. Nancy Hall, Chief Academic Officer
Arlington, VA (PRWEB) December 03, 2013
The National Center for Educational Achievement (NCEA) recently named four Imagine Schools campuses Higher Performing Schools. According to the NCEA, this designation affirms that Imagine Schools successfully advances students "toward college and career readiness in one or more content areas tested by AIMS." Through rigorous curriculum and personal development strategies, Imagine Schools prepares students to lead lives of leadership, accomplishment, and exemplary character, an achievement that is recognized by this award.
The designation brings attention to the new Academic Excellence Framework implemented by Imagine Schools. This Framework was developed and based upon a study of high performing and highly effective Imagine campuses. It contains strategies and nationally recognized best practices to strengthen student performance and create a culture of high expectations.
"Earning this designation reflects the dedication of our educators to bring excellence into our Imagine classrooms and campuses," states Dr. Nancy Hall, Chief Academic Officer. "It serves as an external validation of the hard work being done to improve the outcomes for every student at each Imagine Schools campus."
Imagine Schools operates fourteen public charter schools in Arizona. The four Higher Performing campuses are Imagine Camelback Elementary School, Imagine Desert West Elementary School, Imagine East Mesa Middle School, and Imagine West Gilbert Middle School. The NCEA states that these Higher Performing Schools "stand out as shining examples of what can be achieved when staff, students and parents work together toward a unified goal of preparing students for life after high school."
Imagine Schools is a national family of 69 public charter schools educating more than 36,000 students in 11 states and the District of Columbia. Imagine Schools partners with parents and guardians to educate their children, providing high quality schools that prepare students for lives of leadership, accomplishment, and exemplary character. Learn more at http://www.discoverimagineschools.com.