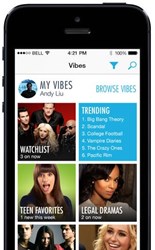 It's frustrating paying for TV service but constantly thinking 'Wow, there's absolutely nothing good on TV,' which is why we built Vibes based on the experiences of our six million users.
Seattle, WA (PRWEB) December 04, 2013
BuddyTV, the leading TV website with six million users, announced that it secured an additional $1.5 Million for its release of Vibes™, an entirely re-imagined app experience for its iOS7 version of BuddyTV Guide. The free app targets anyone with traditional pay-TV, broadcast, or streaming services with features that help find what to watch using a cable provider, satellite provider, or broadcast TV. The app also offers searching across streaming services like Amazon, Netflix, iTunes, Hulu, HBO, Crackle and others.
The funding round was led by Madrona Venture Group and other prominent angel investors.
"It's frustrating paying for TV service but constantly thinking 'There's absolutely nothing good on TV,'" said Andy Liu, Co-Founder and CEO of BuddyTV, "Which is why we built Vibes based on the experiences of our six million users, and created a friendly viewing guide powered by real people who love TV and want to share it."
The app offers a simple platform that allows users to subscribe to, create, and share unique collections of TV shows and movies, called "Vibes." Popular Vibes include "Redneck Buddies," "Underwater Terror," and "Rich People doing Stupid Things." Powered by content from BuddyTV.com, each show displays enhanced data including articles, slideshows, episode information, pricing, and TV/Movie location, easily sorted by the user's video sources or combination of sources.
Discovering TV shows and movies through friends is often the most important factor in deciding what to watch. Vibes makes it very easy for users to solicit input from friends and experts to find shows to watch as well as to share collections they love.
BuddyTV's Vibes brings together:
Sources. All sources of entertainment that you have access to are placed into one app: cable, satellite, broadcast, and streaming (Amazon, iTunes, Crackle). You let the app know what sources you have available and Vibes takes care of the rest.
Devices. Vibes lets you know if you can watch it immediately on your mobile device or what channel to tune into on your TV.
Interests. Subscribe to Vibes that match your interests. Vibes can range from, "Distract My Child" to "Redneck Buddies" to "Underwater Terror". Each Vibe is rich with TV shows and movies as well as enhanced content. Just as people create playlists of their favorite music, Vibes lets fans create a theme-based collection of their favorite shows or movies.
Friends. Share your created Vibes with your friends. Share your favorite inspirational movies. Find Vibes that your friends are subscribing to.
BuddyTV Vibes is available today on iOS 7 capable devices including iPhone and iPad.
About BuddyTV:
BuddyTV Guide's Vibes™ is a free app to help TV and Movie viewers manage sources of content, devices, interests, and friends. BuddyTV has the highest rated TV Guide app in iTunes and has over 1.2M downloads and over 6MM monthly uniques on its website.
For press inquiries or to arrange an interview with BuddyTV CEO Andy Liu, please contact Andrew Sumitani at BuddyTV: andrew(at)buddytv(dot)com or 206-859-4180 x205. For the very latest information about BuddyTV and the BuddyTV Guide app, visit http://www.BuddyTV.com, like on Facebook and follow on Twitter @BuddyTV and @BuddyTVGuide.