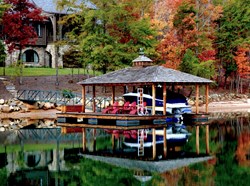 Exemplary Artist in Residence Programs
Greenville, South Carolina (PRWEB) December 04, 2013
A picture says a thousand words and what a better backdrop for artists to be inspired than at The Reserve at Lake Keowee. This year's 2013 Artist in Residence winners were chosen and have been all the buzz in the local Lake Keowee neighborhoods. Out of all of the amazing locations, both artists have spent a year in the community to showcase their work and organize educational workshops. Their contribution and talent helps benefit community members and programs promoting lifelong learning in Western South Carolina.
Selected artists stay in the home of a Lake Keowee Reserve member. The two artists exhibiting their talents for this year are Katherine Scott Crawford and Matt Hanewald. The artists dedicate their time at The Reserve at Lake Keowee to creating wonderful works of art. During their stay, they can gain inspiration from the gorgeous scenic views, while members of the Lake Keowee neighborhoods become inspired by their artistic abilities.
The first Artist in Residence to arrive at The Reserve at Lake Keowee this summer was Matt Hanewald. Hanewald, the carpenter and woodworker, nurtured his talent of woodworking with his father and another local carpenter in Ohio in 2002. Together they built their very own timber frame shop from the trees available on their property. His father mentored him in the art of building Windsor chairs and other pieces inspired by furniture made in the 18th and early 19th century.
Since then, Hanewald has made a name for himself making modern and traditional furniture. Hanewald is also affiliated with other projects benefiting his clients and the environment. He owns a sawmill which aides in his woodworking projects, while he also gives back to the environment for his woodworking material. Hanewald owns part of a company that rehabilitates and rebuilds natural wetlands and streams. He also spent the last ten years replanting two million trees in multiple states in the nation. His talents and passion for environmental sustainability make him a perfect icon of artistry and philanthropy for the Lake Keowee neighborhoods.
The writer and local historian, Katherine Scott Crawford, spent some time at The Reserve at Lake Keowee and in the surrounding areas to share information about her novel, Keowee Valley. Crawford is originally from Greenville, South Carolina and is an ideal representation of lifelong learning Western South Carolina. Crawford studied at Clemson University, the College of Charleston and The Citadel. The focus of her degrees were in English and Speech & Communications studies. Her next triumph in academia will be earning her MFA in Writing from the prestigious Vermont College of Fine Arts. Although her permanent home is in Brevard, North Carolina with her family, the residents at The Reserve at Lake Keowee have been happy to welcome her to the community.
The Reserve at Lake Keowee is a beautiful place for residents to relax and also explore their interests and passions. Crawford and Hanewald have joined the Artist in Resident list which also includes previous years' artists: painter Russell Jewell, pianist Martha Beaudrot, guitarist Jhon Akers and photographer John Smith. These artists and other activities contribute to The Reserve Community Foundation and other programs dedicated to lifelong learning Western South Carolina.
About Real Estate Scorecard:
Real Estate Scorecard writes unbiased real estate reviews providing in-depth information about popular gated communities in Florida, Georgia, North Carolina, South Carolina and Tennessee, all in an effort to help people discover where to retire in the Southeast.
Website: http://realestatescorecard.com