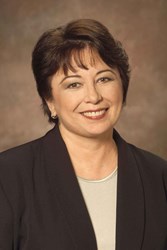 Outsourcing to an accident managment company can help government fleets reduce their repair cycle times, save money and make better use of their labor force. -- Kathy Croze, CEI
Tulsa, OK (PRWEB) December 03, 2013
Kathi Croze, CEI's national sales manager for the government fleet market, will share with attendees at the Oklahoma Fleet Management Association meeting this week how outsourcing their collision repair work can help municipal fleets save money and make better use of their labor force.
Ms. Croze was invited to be a charter member of the association, which is holding its first meeting in four years this Thursday, December 5, in Tulsa, Oklahoma. Among topics to be discussed will be whether to convert the informal group into a more formal association. Ms. Croze will be among the vendors exhibiting at the meeting.
"Two of the primary reasons government fleets use CEI for collision repair services are that their repair cycle time is greatly reduced and the data we collect and return to them is in an easily manageable format. We can break down their repair costs and accident information so they know the who, what, when, where and how much of each accident and by department. That information is very powerful to them," said Ms. Croze.
For more information about the meeting, contact Brian Franklin, administrative manager of the City of Tulsa's equipment management department, by calling (918) -596-9810.
Earlier this year, Ms. Croze was presented with the Distinguished Service Award by the National Conference of State Fleet Administrators. In 2012, she was also named one of the top women in the fleet industry by the trade magazine, Automotive Fleet. She has also been a member of the NAFA Fleet Management Association for 35 years and was named its first female affiliate trustee in 2003.
About CEI
The CEI Group, Inc. (CEI) is a leading provider of technology-enhanced vehicle accident, driver safety and fleet risk management services. Its provider network consists of some 4,000 collision repair shops in North America, and includes nearly 900 truck collision repair centers. Its customers include self-insured, commercial, and institutional and government fleets, directly and through alliances with fleet leasing companies. CEI also provides vehicle direct repair program outsourcing to leading property and casualty insurance companies. For more information, please visit http://www.ceinetwork.com.