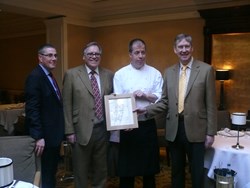 They (diners) are our most important critics and to be reassured they are happy with what we are doing here is just fantastic
Chester, England (PRWEB) December 05, 2013
It has been an exciting autumn of accolades for Simon Radley, Executive Chef at Michelin star rated, 'Simon Radley at The Chester Grosvenor.' This week he was honoured by the International Wine and Food Society with an award of excellence. The International Wine and Food Society is a global gastronomic society which pioneered the appreciation of wine and food in 1933 and now has over 131 branches worldwide.
The award ceremony was held at 'Simon Radley at The Chester Grosvenor' where members of the society came together for an afternoon tea and to celebrate Simon's fantastic achievements.
The Michelin-restaurant, which bears the name of its executive chef Simon Radley, also recently celebrated a 24th consecutive Michelin star and an entry into The Good Food Guide.
About Rebecca Recommends:
Rebecca Recommends is a quality, service-driven company offering sales and marketing representation to independently owned and award winning luxury hotels, country manor hotels, historic residences, tour and destination management companies worldwide. Rebecca Recommends is highly regarded in the North American luxury travel market and has superb and longstanding relationships with the US leisure travel trade.