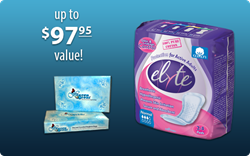 It's brought us great pleasure to provide these items to people who need them.
Neenah, Wis. (PRWEB) December 04, 2013
The CareGiver Partnership, a national retailer of incontinence products and other home health care supplies, is wrapping up its 2013 "Helping You Get On With Life" sweepstakes with a prize bundle from Elyte and Heaven Scent. Founder Lynn Wilson announces The CareGiver Partnership will continue to give away prizes every month in 2014.
"We created this sweepstakes to raise awareness of the many product and service solutions available among the caregiver community," says Wilson. "Each item chosen represents a family caregiver solution — a product or service that helps seniors live more independently and gracefully in their homes."
This month's prize bundle includes a case of Elyte 100% cotton incontinence pads. Ideal for those with sensitive skin, hypoallergenic Elyte pads help prevent and alleviate rashes and irritation. Their all-cotton design makes them naturally superabsorbent, breathable and comfortable. Case count varies from 120 to 144, depending on absorbency chosen. Customers also can order a four-pad sample pack of Elyte and pay just $3.49 for shipping and handling.
The prize package also includes a package of Heaven Scent premium scented bags for discreet disposal of incontinence, feminine hygiene or baby products. With a powder scent to mask unpleasant odors and an opaque design to hide contents, the package of 50 bags is small enough for a purse or carry-on bag.
"We're pleased to announce we are continuing the 'Helping You Get On With Life' sweepstakes throughout 2014," Wilson adds. "We've enjoyed partnering with those who supply these great products and services, and it's brought us great pleasure to provide these items to people who need them."
To win this month's prize package valued up to $97.95, participants need only e-mail info(at)caregiverpartnership(dot)com or mail a short statement explaining why the prize would be useful to him or her or a loved one. The CareGiver Partnership will accept entries for this prize through Dec. 31 and will notify the drawing winner the first week of January. To learn more about the two easy ways to enter, visit The CareGiver Partnership's "Helping You Get On With Life" sweepstakes page.
The CareGiver Partnership is a national direct-to-consumer retailer of home healthcare products for incontinence, diabetes, nutrition support and more. In its seventh year of providing products and services that help caregivers and loved ones maintain personal dignity, the company also offers an online library of more than 1,400 family caregiver resources and personal service by experts in caregiving. Call 1-800-985-1353 or visit online at caregiverpartnership.com.