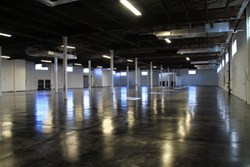 At Soho Studios, we understand the importance of experiences that create an everlasting effect.
(PRWEB) December 04, 2013
Miami's Wynwood Arts District has rapidly built up a reputation as an innovative center for fashion and art, even earning a spot among the top 10 of the world's most stylish neighborhoods, according to Complex magazine.
Now, a multi-million dollar renovation in Wynwood has opened up 70,000 sq ft of event space at Soho Studios, making it the largest event and entertainment space in Miami. Beyond cutting-edge contemporary art exhibitions and production space, Soho Studios now provides a new in-house experiential marketing team to conceptualize and produce spectacular events.
Glenn Orgin is CEO of Soho Studios. "The future of entertainment and events in Miami is now in the Wynwood district. The arts district provides a playground for experiential marketing agencies to create unique experiences. We just completed a multi-million dollar renovation at Soho Studios to provide our clients with a turnkey experience."
The district has seen a great deal of changes over the past decade since a collection of art dealers, curators and artists put together the Wynwood Art District Association in 2003. This year's diamond anniversary of the collective sees Wynwood maturing into a nexus for futuristic experiential marketing events as well. A video introduction to the Soho Studios space demonstrates how the renovation has made it possible for the studios to handle events ranging from intimate gatherings or a massive crowds.
"At Soho Studios, we understand the importance of experiences that create an everlasting effect," Orgin explained. "Now, with the introduction of our experiential marketing team, we are able to provide boutique experiences and collaborate with other experiential marketing agencies."
The development of Soho Studios into the largest private entertainment venue in Miami means that Wynwood's booming art and fashion district of Miami means that artists and families have a new haven that they can always turn to for a supportive social network.
Glenn Orgin laid out the wider economic and social implications of this latest expansion, "With the introduction of the Wynwood BID, Wynwood becomes even more refined as our neighbors unite to create a stable and secure community for the future businesses in the Wynwood district."
About Soho Studios
Soho Studios offers Miami's premier production, event and exhibition space. We can provide decor, catering, and large event hospitality. We represent the top choice for event planners, brand marketers and experiential marketing agencies as well, with three studios to choose from and a range of spaces from intimate to epic.
For more information, contact Soho Studios at (305) 600-4785, 2136 NW 1st Avenue, Miami, FL 33127.