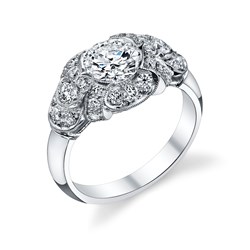 Redland, CA (PRWEB) December 04, 2013
Van Craeynest is pleased to announce that Nina Garcia selected their Art Deco Era Diamond Ring as one of her "Platinum Must-Have Pieces" in the curated gallery featured on TheKnot.com. Platinum Guild International USA (PGI-USA) partnered with Marie Claire Magazine Creative Director, Project Runway judge and style expert Nina Garcia to present pieces that speak to both fashion and bridal, while showcasing the timeless quality that makes platinum so distinctive. As a lover of platinum jewelry with a strong voice in fashion, Garcia was a natural choice to handpick the most unique and enduring pieces from various designers.
Garcia selected Van Craeynest's 7041 Art Deco Era Diamond Platinum ring. With a distinct vintage design, the ring is evocative of eras gone by while showcasing the details of craftsmanship and lasting quality. "We are delighted and honored to have one of our timeless and handcrafted rings featured in her curated gallery of stunning platinum jewelry," says Paul Emerson II, Proprietor of Van Craeynest. "It's a reflection of the Van Craeynest legacy. As we approach nearly a century of bespoke ring manufacturing, we still use much of the original equipment, tools and master techniques to remain consistent with the craftsmanship that has withstood the test of time." Every Van Craeynest ring is die struck then saw pierced, carved and chased by hand, making each piece an individual masterwork.
The Van Craeynest story begins in San Francisco during the Roaring 20's with the dream of young Roger Van Craeynest – the devoted boy of an immigrant family. At the tender age of 13, Roger began an apprenticeship with Shreve & Company on Union Square working under the finest European craftsmen. Under their diverse influence, he was carefully mentored, ultimately becoming a notable master die cutter, designer and engraver – establishing a new standard for fine jewelry.
Roger founded Van Craeynest in 1926, fulfilling his dream and continuing a strong tradition of apprenticeship. For the last 87 years, Van Craeynest has produced premier handcrafted Victorian jewelry made with many of the original tooling and machines reaching back to the late 19th century.
In 2011, the Emerson family and owner of Emerson & Farrar Fine Jewelry in Redlands, California acquired Van Craeynest with the mission of upholding the tradition and legacy of this historical jewelry manufacturer. Van Craeynest's original home on 657 Mission Street in San Francisco was relocated to downtown Redlands with the help of a rickety 100 year-old elevator, specialty equipment, lifts and cranes, and several trucks. "Redlands is known for history, tradition, and culture," continues Emerson. "It seemed like a fitting place for Van Craeynest to settle and continue using the tried and true techniques of the past."
Roger Van Craeynest's legacy of master craftsmanship and dedication to detail lives on in the extraordinary work of current Master Jeweler Stanislav Kaufman who has been with the company since 1989. The apprenticeship system that was the foundation of Van Craeynest remains to this day.
To preview Van Craeynest's ring and the rest of Garcia's "Platinum Jewelry Must-Haves," visit TheKnot.com and PreciousPlatinum.com. For further information on Van Craeynest, to view their collection or to schedule a tour, please visit http://www.vancraeynest.com, or call (415) 362-1025.