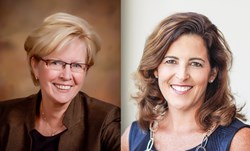 We welcome the insights and expertise these two successful executives bring to Ella Health. They are dedicated and committed to our vision of transforming the way women experience health care. -- Ella Health CEO Melissa Dyrdahl
San Francisco, CA (PRWEB) December 05, 2013
Ella Health, a 3-D mammography and women's health services provider, has appointed two top executives to serve on its Board of Directors. Sharon Knight, Patient Engagement Solutions Leader with AVIA, and Mary Ann Tocio, President and Chief Operating Officer of Bright Horizons Family Solutions, will serve as key advisors to the health care provider as it expands into new locations and services.
"We welcome the insights and expertise these two successful executives bring to Ella Health," said CEO Melissa Dyrdahl. "They are dedicated and committed to our vision of transforming the way women experience health care."
Ella Health is one of the few centers in the U.S. to offer 3D mammography, which has been shown to enhance breast cancer detection and reduce false positives. This advanced breast cancer screening service is provided in a carefully designed center that is more like a spa than a clinic with private dressing rooms, warm robes and a friendly staff.
"Our priority is to give women better health care options that are specifically attuned to their needs," Dyrdahl said. "With Sharon and Mary Ann on the team, we are looking forward to adding more services and growing to new locations."
Sharon Knight is a Patient Engagement Solutions Leader at AVIA, a provider-formed innovation accelerator founded to help hospital and health system members to identify, select and deploy emerging IT-enabled solutions to address strategic priorities. She was previously President of One Medical Group, an innovative healthcare delivery company and also founded Avik Ventures, which provides investment and advice to early stage entrepreneurs with a focus on health care solutions to promote improved patient access and experience. Knight has also held executive positions in the banking, restaurant, retail and video gaming industries. She earned a Masters of Management degree from the J.L. Kellogg Graduate School of Management.
Mary Ann Tocio is responsible for the domestic and global operations of Bright Horizons Family Solutions, the world's leading provider of employer-sponsored childcare, early education and work/life solutions. Tocio joined Bright Horizons in 1992 with many years of experience managing a multi-site service organization and more than twenty years of experience in the health care industry. She was previously the Senior Vice President of Operations for Wellesley Medical Management, Inc., (Health Stop) in Boston, a national provider of ambulatory care and occupational health services, and held a variety of managerial positions at several Boston area hospitals. Tocio earned an MBA from Simmons College of School Management.
With headquarters in San Francisco, Ella Health has plans to grow nationwide.