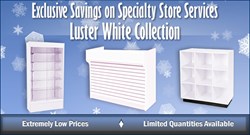 Eric Weinstein, the owner of Specialty Store Services: "With these super low prices, I believe our customers will not be disappointed with their purchase of these great looking displays."
Des Plaines, IL (PRWEB) December 17, 2013
With the Holiday Season finally here, many retail stores are stocked with products to be sold for the holidays. With the increased demand for retail displays and supplies due to this increased stock, retailers will agree that this is the best time for Specialty Store Services to drop the prices of some of the most popular items. Everyday retail products can be found On Sale at Low Prices from Tagging Guns to Led Open Signs and Mannequins.
During this time of the year, it is important to pass on holiday cheer to customers with Holiday Bags at $19.97 a carton of 1,000 bags. The Holidays are a good time to do a little extra for the customers, like helping them by wrapping gifts. Specialty Store Services has a wide variety of wrapping paper, tissue paper and ribbons for the holidays season on the company website.
For a limited time Specialty Store Services has the Exclusive Luster White Display Collection at super low prices that are up to 52% off the retail prices. "Luster White is an exclusive laminate color for Specialty Store Services," says Eric Weinstein, the owner of Specialty Store Services. "With these super low prices, I believe our customers will not be disappointed with their purchase of these great looking displays." Specialty Store Services has a variety of items in Luster White that can be used as a standalone item; Pedestals to Slatwall Displays to Showcases and Counters that can be used together in a run. These items are made of quality Luster White melamine laminate that can withstand everyday use and are virtually maintenance free.
About Specialty Store Services
Specialty Store Services, a second-generation family owned business, offers everything necessary to operate a thriving retail store, from logistical solutions and retail supplies to custom and stock fixtures. The large inventory of retail supplies and displays available include lighted showcases, shopping bags, pricing and tagging guns, garment racks, mannequins and security systems. Over the last 25 years this service-driven company has cultivated relationships with global partners while developing the expertise and knowledge required to provide competitive prices, outstanding customer service and quality products. Products are available for purchase online, via phone 800-999-0771, fax 888-368-8001, or at the showroom located at 454 Jarvis Avenue, Des Plaines, IL 60018.