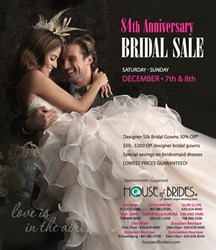 Industry Consultant Dale Buziecki says, 'The Anniversary Sale is the retailer's 'thank you' to customers for an incredible 84 years.'
Glen Ellyn, Illinois (PRWEB) December 03, 2013
House of Brides commemorates their 84th year as a bridal retailer with this weekend's sale. The event is hosted at each of the 6 wedding salons.
The sale includes $100 to $300 off retailer pices on designer wedding dresses. Special savings are available on over 700 bridesmaids dresses. Additional discounts will include savings on Mother of the Wedding, special occasion, flower girl and prom collections. Newly arriving Spring 2014 styles will be part of the sale.
Industry Consultant Dale Buziecki says, "The Anniversary Sale is the retailer's "thank you" to customers for an incredible 84 years."
The retailer was established in 1929 with its first salon in Cicero, Illinois. The company was founded as a family owned and operated retail salon. Today, House of Brides is the oldest bridal name in the country and remains a family-run company.
The retailer has now grown to 11 locations and a global E-Commerce website. The retailer has plans for additional locations in the future.
The 84th Anniversary Sale is Saturday December 7th and Sunday December 8th exclusively at House of Brides. The salons are located in Chicago, Schaumburg, Glen Ellyn, Oak Lawn, Aurora and Orladn Park.
Appointments are suggested. Customers may visit Locations & Hours on the website to find the most convenient salon. The sale ad is viewable on Store Promos.
About House of Brides:
House of Brides established its first brick-and-mortar store in 1929 and has since grown to 11 Chicagoland stores and global E-Commerce website, houseofbrides.com. Millions of brides and their wedding parties visit the salons and global website for over 50,000 wedding and special event products.