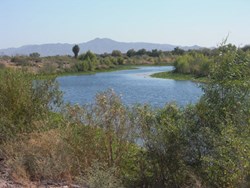 What was once an overgrown, neglected and avoided region has now become an inspirational attraction and a destination for local residents, recreationalists and visitors.
Kansas City, Mo. (PRWEB) December 03, 2013
The Design-Build Institute of America recently presented both an overall Citation in Design Excellence Award and a category Merit Award to HNTB Corporation for the Tres Rios Environmental Restoration, Phase 3A and 3B, project. HNTB served as design engineer as part of a design-build team with Kiewit Western Co.
The HNTB-Kiewit design-build team received the Merit Award in the category of rehabilitation/renovation/restoration projects. HNTB was further recognized by receiving the year's single Citation in Design Excellence Award for its significant role on the project as the lead design engineer. The awards were presented at a special banquet on Nov. 5 during the 2014 Design-Build Conference and Expo in Las Vegas. Representatives from the Tres Rios design-build team – including U.S. Army Corps of Engineers Los Angeles District, City of Phoenix, Arizona Game and Fish Department, Kiewit Western and HNTB – were on-hand to receive the award.
The $17 million project is located at the confluence of the Salt, Gilla, and Agua Fria rivers in southwestern Phoenix. It included reviving 1,920 acres (approximately 3 miles long and 1 mile wide) of a native wetland/marsh habitat. The area had become overgrown with invasive salt cedar trees and other pestilent plants and weeds, which were destroying native plants critical to the nesting habitat of three regional endangered species.
"For an environmental restoration, this project was extremely multi-faceted, technically challenging and politically complex," said Rob Rastorfer, HNTB senior project manager. "We persevered by designing the entire project while meshing the needs and visions of multiple stakeholders into a sustainable design that was highly endorsed and supported. All stakeholders, the contractor and every design team member were truly determined to see our project achieve the greater vision."
HNTB's sustainable design removed all invasive plant life, salvaged existing native plants and re-vegetated the region, taking advantage of the plentiful groundwater supply with 18,000 new aquatic plants, 6,000 container plants and 1,700 new pole plantings harvested from cottonwood and willow trees saved during construction. HNTB's design also created numerous, meandering waterways, islands, coves and inlets that provides ample opportunities for endangered species habitat, bird watching, wildlife viewing, fishing and recreation.
The 1 million cubic yards of excavated material was disposed of on-site, creating a scenic, rolling riverbed that mimics the terrain of the low, surrounding, rocky hills. The project was modeled dynamically in a 3-D environment, which enabled the designers, contractors, owner and stakeholders to see the fully developed project in a simulated computer environment prior to construction. It also improved the 100-year flood level, eliminating the need for the extension of expensive control levees.
"People and wildlife have returned to the area," Rastorfer said. "What was once an overgrown, neglected and avoided region has now become an inspirational attraction and a destination for local residents, recreationalists and visitors."
HNTB Corporation is an employee-owned infrastructure solutions firm serving public and private owners and construction contractors. With nearly a century of service, HNTB understands the life cycle of infrastructure and addresses clients' most complex technical, financial and operational challenges. Professionals nationwide deliver a full range of infrastructure-related services, including award-winning planning, design, program delivery and construction management. For more information, visit http://www.hntb.com.