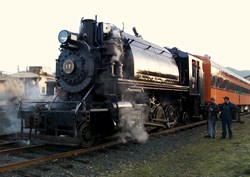 "We're glad we could extend the season and offer these train rides each weekend thru December 23. This rebuild took generous donations from our supporters and two years and eight months worth of hard work from our dedicated staff and volunteers."
Elbe, WA (PRWEB) December 04, 2013
Saturday November 30 passengers on the Mt. Rainier Scenic Railroad witnessed the debut of the newly rebuilt Hammond Lumber Co #17. Amongst holiday décor nearly one thousand passengers turned out to ride the vintage steam train. The restoration efforts on this 80-ton Mikado type rod locomotive were registered a success when the engine passed its Federal regulatory tests and took to the tracks for the first departure of the 2013 Santa Express season. Tickets can be purchased at the Mt. Rainier Scenic Railroad website.
"We're glad we could extend the season and offer these train rides each weekend thru December 23. This rebuild took generous donations from our supporters and two years and eight months worth of hard work from our dedicated staff and volunteers." says Meilee Anderson, Director of Sales and Marketing for the railroad.
Passengers can see the 2-8-2T ALCO Rod Locomotive in action at the MRSR depot located in Elbe, WA. Passengers will steam thru the Nisqually River valley with festive decorations and visits with Santa weekends December 6 thru 23. Each excursion offers a 90 minute to 2 hour experience before returning to Elbe, WA.
For more information or to purchase tickets to this unique event visit: http://www.mrsr.com or view the Youtube video.
About Mt. Rainier Scenic Railroad (MRSR)
The Mt. Rainier Scenic Railroad (MRSR) is a steam-powered heritage railroad operating in Washington State between the towns of Elbe and Mineral. MRSR is a 501(c)(3) non-profit organization and the longest continuously operating steam train railroad in the Pacific Northwest. Approximately 30,000 passengers travel the forest and foothills of Mt. Rainier annually on these vintage restored trains. The majority of the excursions are operated and supported by dedicated volunteers. Proceeds from ticket sales support continued preservation and restoration efforts. The Mt. Rainier Scenic Railroad offers scheduled departures weekly June thru October and again during the month of December.