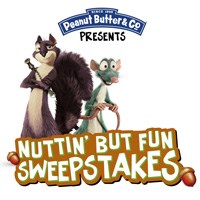 New York, NY (PRWEB) December 10, 2013
Things are about to get nutty! Peanut Butter & Co. in partnership with Open Road Films and Funjet Vacations has launched the Nuttin' But Fun Sweepstakes to celebrate the release of the animated action-packed comedy The Nut Job, in theaters January 17, 2014.
From Tuesday, December 10, 2013 to Friday, January 31, 2014, consumers can enter the Nuttin' But Fun Sweepstakes for a chance to win the Grand Prize – an exciting family getaway for 4 to Aruba with all-inclusive accommodations at RIU Palace Aruba, courtesy of Funjet Vacations! The winner will also receive assorted The Nut Job film merchandise and Peanut Butter & Co. products. In addition, two First Prize winners will each receive assorted The Nut Job film merchandise and Peanut Butter & Co. products. There is no purchase necessary to enter the sweepstakes. For a complete set of rules and to enter, consumers can go to http://www.NuttinButFun.com.
In animated 3D, The Nut Job is an action-packed comedy that follows Surly, a mischievous squirrel, who must plan a heist to get into his town's biggest nut shop in order to help his pals in the park gather food to survive the winter. Together with his sidekick, Buddy, he will assemble a ragtag crew to help him get inside - and take them on a fun-filled adventure that they'll never forget.
Peanut Butter & Co. will promote the Nuttin' But Fun sweepstakes on specially-marked jars of Peanut Butter & Co. peanut butter, available at major supermarkets and retailers nationwide. The sweepstakes will also be promoted on the Peanut Butter & Co. web site, social media channels, and the sweepstakes microsite. The partnership includes integration of Peanut Butter & Co. products in the film, and Peanut Butter & Co. will be providing peanut butter treats at the film's January 2014 premiere in Los Angeles.
"Finally, a film worth going nuts over!" said Lee Zalben, Founder & President of Peanut Butter & Co. "We're thrilled to partner with Open Road Films and celebrate this fun new film with an exciting sweepstakes where consumers have a chance to win a Funjet family vacation to Aruba."
Based on the 2005 award-winning comedy short film Surly Squirrel by animation veteran Lepeniotis, The Nut Job marks the Canadian-based ToonBox's first feature film with Korean partner Redrover, in association with Gulfstream Pictures, which handles U.S. sales. Find out more at Facebook.com/TheNutJobMovie and Twitter.com/TheNutJobMovie.
About Peanut Butter & Co.
Peanut Butter & Co. began in 1998 as a cozy little sandwich shop in Greenwich Village, NYC and has since become one of the fastest growing natural/specialty food companies in the US. The company's ten varieties of all natural, flavored peanut butter are available in over 15,000 supermarkets and specialty retailers, and Dark Chocolate Dreams, the company's chocolate flavored peanut butter, is the #1 selling all natural chocolate nut spread in the country (Source: IRI). Peanut Butter & Co.'s products are made exclusively from USA-grown peanuts. Find out more at ilovepeanutbutter.com, Facebook.com/PeanutButterCo, and Twitter.com/PeanutButterCo.
About Open Road Films
Open Road Films is a dynamic, acquisition-based domestic theatrical distribution and marketing company which annually releases a diverse slate of star-driven motion pictures which has included multiple #1 releases. It was founded in 2011 by AMC Entertainment Inc. (AMC) and Regal Entertainment Group (Regal), the two largest theatrical exhibition companies in the United States. More information about Open Road Films can be found at OpenRoadFilms.com, Facebook.com/OpenRoadFilms and Twitter.com/OpenRoadFilms.
About ToonBox Entertainment
Located in downtown Toronto Canada, ToonBox Entertainment Ltd. brings to life original content for film, television, and interactive media with concepts derived from captivating character designs and storylines. With a team of over 160 highly skilled and dedicated employees using state of the art equipment and innovative stereoscopic technology, ToonBox has the ability to produce Hollywood quality content for an independent production's budget.
ToonBox also works closely with the overseas studio Redrover Co., Ltd. in Korea to produce animation, special effects, compositing and 3D stereoscopic renders. This successful working relationship allows the companies to capitalize on the best of both worlds, amalgamating creative inspiration, direction, and animation expertise.
About Funjet Vacations
Funjet Vacations is the flagship brand of the family-owned Mark Travel Corporation, headquartered in Milwaukee. Operating for more than 39 years, Funjet Vacations specializes in flexible, personalized vacations for individuals and groups via nonstop charters and scheduled airlines to some of the most popular vacation destinations, including Mexico, the Caribbean, Las Vegas, Hawaii, Ski, California, Florida, Europe and spring break getaways. Travelers can choose from air-inclusive, land-only or air-only vacations. With Funjet Vacations, travelers can enhance their vacation through a wide variety of experiences such as tours, attractions, shows, sporting events and more. In addition, Funjet Vacations demonstrates its "end-to-end" customer service philosophy by being available to customers throughout the entire vacation experience, from planning to in-destination to post-travel communications.