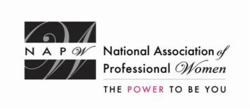 Star and Louise spoke directly to us about the issues confronting professional women today. They shared with us how NAPW is shaping the agenda with both programming and advocacy, and Star Jones told us about...
Garden City, NY (PRWEB) December 04, 2013
Thousands of members and guests from NAPW Local Chapters across the country came together in November for professional networking meetings. Whether it was welcoming Star Jones, NAPW National Spokesperson and Chief Development Officer and Louise Newsome, NAPW National Director of Chapters and NYC Chapter President to a Chapter meeting, hosting a local fundraiser or giving thanks for all they've achieved, groups of professional women were busy welcoming guest speakers, giving back to their communities and supporting each other's professional and personal successes.
"The highlight of our Chapter meeting was when Louise Newsome introduced Star Jones," said Ft. Worth/Tarrant County, TX Chapter President Mae Hoover. "Star knocked a home run with the crowd by relaying her own journey to success and emphasizing the importance of membership in NAPW. She told of plans for the future of the organization and how she and Louise intend to work closely with Local Chapters."
"The words of Ms. Jones and Ms. Newsome energized the group of professional women in the room and inspired many of the non-members to become a part of NAPW," said Chapter President Hoover. Members and guests of the Plano, TX Local Chapter also had the opportunity to meet Ms. Jones and Ms. Newsome.
"Star and Louise spoke directly to us about the issues confronting professional women today. They shared with us how NAPW is shaping the agenda with both programming and advocacy, and Star Jones told us about some of the exciting, new initiatives NAPW is working on," said Plano Chapter President M. Gloria Wesmorland.
NAPW Local Chapters around the country hosted an eclectic group of guest speakers who shared their expertise with members and guests. Groups of professional women gathered in Akron and Cleveland, OH; Binghamton, Forest Hills, Putnam County and Saratoga, NY; Boston, MA; New Orleans, LA; Pembroke Pines, FL; Manassas, VA; Seattle, WA; Honolulu, HI; Raleigh-Durham, NC; San Mateo and South Orange County, CA; St. Louis, MO; Tampa, FL and Warwick, RI to hear helpful tips and expert advice from business executives, career coaches, health, wellness and lifestyle experts and work/balance advocates.
Whether it was at casual meet-and-greet meetings in Albuquerque, NM; Arlington and Stafford, VA; Bellevue, WA; Milwaukee, WI; St. Petersburg, FL; Omaha, NE and Norman, MI or at launch and first-time events in Brandon, FL and Columbia, MD, NAPW members supported one another by celebrating each other's achievements. During monthly meetings, Member Spotlights offered professional women the opportunity to introduce themselves and speak about their businesses and careers.
To help members and guests prepare for the busy holiday season, the Chicago Chapter hosted an event, 'Holiday Dinner Party Ideas & Cooking Demo' that featured special guest, Chef Terri Rogers. The founder of NoOodle, a line of all-natural pastas, Ms. Rogers is scheduled to appear on an upcoming episode of Shark Tank. During the event, members and guests enjoyed a delicious holiday meal and donations and toiletries were collected for the charity, House of Prima Donnas.
"Chapter members Peggy Mikros and Valeria Wright showcased an amazing menu and demonstration and offered tips for hosting a holiday dinner party," said Chicago Chapter President Megan Wessels.
The Bakersfield, CA Chapter hosted an 'Evening of Glitz and Glamour' that included fashion, a celebrity hair and makeup artist, food and exciting prizes. Members and guests also got business etiquette advice.
Newly installed Nassau County, NY Chapter President Laura Grau welcomed members and guests and introduced the Chapter's new board at the monthly meeting. She discussed the benefits of NAPW membership including the many networking and marketing tools such as the annual networking conference, Community Wall, monthly newsletter, podcasts and much more.
"I'm so excited to take on this leadership role and I look forward to getting to know each and every one of you!" she said to the group of professional women.
NAPW Local Chapters always find ways to give back to their communities and beyond. This was especially true in November, when members and guests gathered to help those in need. The Jacksonville, FL Chapter supports many local charities and has raised more than $4,500 for Girls Inc.
"During our November meeting, Chapter VP of Finance Charu Raheja read aloud a letter of appreciation from Girls Inc., thanking the Jacksonville Chapter for its support," said Chapter President Carolyn Ward.
At the NAPW Lexington, MA Local Chapter meeting, the president congratulated members for their tireless efforts when it comes to giving back. She thanked member Davonna Saier, who recently donated 100 pairs of pantyhose to Dress for Success.
"NAPW national headquarters is impressed with our service to the community," Misty D. Dotson told the group of professional women. "NAPW has a new Key City Initiative and I'm very proud to announce our Chapter has been selected as one of those key cities!"
Ivory Morgan-Burton, President of the Norfolk, VA Chapter also announced the Chapter's designation as a key city. During the monthly meeting, members and guests brought donations for the Chapter's two charitable initiatives: a food drive for Cat Rescue, Inc. and a shoe drive for Dress for Success.
All during the month of November, groups of professional women made connections and made a difference in their communities. Members supported one another and worked together to make their Chapters a success, whether they had a leadership role on the Chapter Board, helped to organize meetings and events or sat in the audience listening to guest speakers. The Long Beach, CA Chapter President Julia D. Whitley reminded members of the important role they have in making decisions.
"I may have the title of President, but this is everyone's Chapter and we all have a voice," she told the group of professional women.
The National Association of Professional Women (NAPW) provides a forum where women can interact, exchange ideas, educate, network and empower. NAPW Local Chapters allow members to maximize their experience through meetings, networking opportunities and professional events.
For additional information regarding NAPW Local Chapters and/or NAPW, please visit http://www.napw.com.